Creating magic with wax prints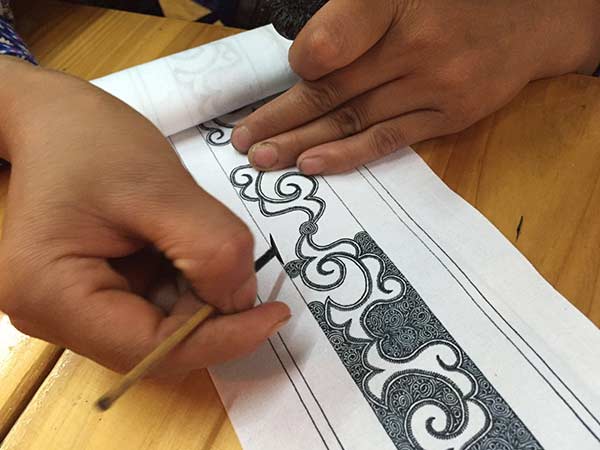 A woman uses a specially made spatula to draw patterns with wax on cloth. [Photo by Liu Wei/chinadaily.com.cn]
Cui started her own company of wax-printing and embroidery products in 2009, where both skillful women and young inexperienced females have been hired.
"They [the trainees] should at least have to have over two months of intensive training before start to make any products. Five hours of practice a day…It's quite a long time given it exhausts the eyes."
As important part of traditional culture, the two craft technologies run past generations of villagers and only can be taught from mouth to mouth. Most women in the village can do some stitch works and make wax printings.
The original rustic patterns often appear on the local people's clothes and baby carrier straps. It attracts some tourists passing by who fancy articles with ethnic elements.
Some locals bring some finished clothes with wax printing or embroidery to nearby scenic spots expecting some income, but never big.
"They usually sell Miao ethnic clothes or headband to tourists. Those stuff usually are not practical," said Cai.
She said Miao ethnic clothes sometimes are too expensive for tourists who just want to have some souvenirs.
"A set of Miao ethnic costume costs over 10,000 yuan ($1,524) since they are all handmade and take months to complete," she said.
Cai has had a few years working outside the village, which helps her know that local products with ethnic elements are in fashion.
She even took part in a competition where all the craftsmen showed their best work of local products. From the competition, Cai was inspired to combine the fashion and ethnic elements.
She adapted wax printing or embroidery into wallets and handbags, or frame every wax printing piece into art ware. The price goes from 200 yuan to about 700 yuan, way lower than a set of ethnic costumes.
"People really appreciate all the work we do for the products in this traditional ways," said Cai. "I am the successor of the wax printing and embroidery here. I want the ancient skills can be passed on as we have innovated the traditional art."