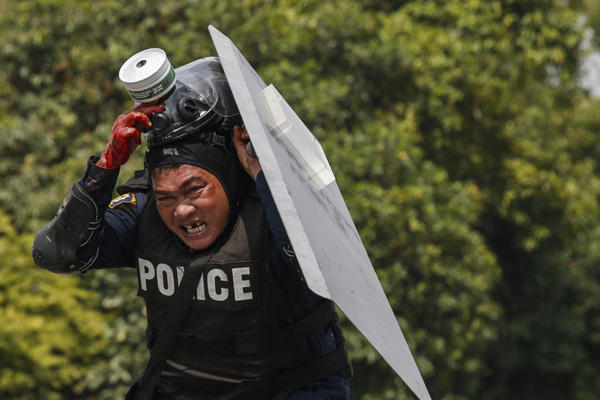 A Thai policeman flees after an explosion during clashes with anti-government protesters near Government House in Bangkok February 18, 2014. [Photo/Agencies]
CAUTIOUS APPROACH
Television pictures showed clouds of teargas and police crouching behind riot shields as officers clashed with protesters near Government House. It was not clear who had fired the teargas and the authorities blamed protesters.
"I can guarantee that teargas was not used by security forces. The forces did not take teargas with them," National Security Council Chief Paradorn Pattanathabutr told Reuters. "Protesters are the ones who threw teargas at the security forces."
The Erawan Medical Center, which monitors Bangkok hospitals, said 44 people were hurt. It did not provide a breakdown of how many of the wounded were police and how many were civilians.
Live television pictures showed police with shields and batons pushing and jostling with protesters near Government House. One man could be seen bleeding from a head wound.
Police said about 100 protesters had been arrested in an early morning operation to clear demonstrators from another protest site near the Energy Ministry.
Yingluck has been forced to abandon her offices in Government House by the protesters, who have also blocked major intersections since mid-January.
The government, haunted by memories of a bloody 2010 crackdown by a previous administration that killed dozens of pro-Thaksin "red shirt" activists, has largely tried to avoid confrontation.
Despite that cautious approach, Tuesday's fatality brought to 12 the number of people killed in sporadic violence between protesters, security forces and government supporters since the demonstrations began. Hundreds more have been hurt.
Bluesky TV, the protest movement's television channel, had earlier shown protest leader Suthep Thaugsuban addressing police lines near Government House.
"We are not fighting to get power for ourselves," Suthep said. "The reforms we will set in motion will benefit your children and grandchildren, too. The only enemy of the people is the Thaksin regime."
Labour Minister Chalerm Yoobamrung, who is in charge of the security operation, has said police would reclaim sites near Government House, the Interior Ministry and a government administration complex in north Bangkok as well as the Energy Ministry.
"We will not respond with force. We will not give up Government House and the Interior Ministry," said protest spokesman Akanat Promphan.
Police have made no move against the largest protest sites in the city's main business and shopping districts.