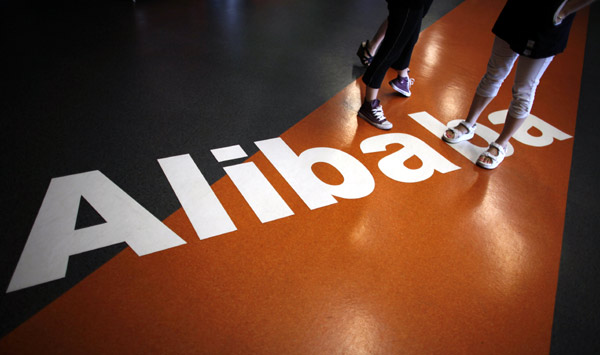 Employees stand on a logo of Alibaba (China) Technology Co Ltd during a media tour organised by government officials at its headquarters on the outskirts of Hangzhou, Zhejiang province on June 20, 2012. [File photo / Agencies]
After a series of buying up and investment in its home market, Alibaba Group Holding Ltd, a Chinese e-commerce conglomerate, made its move in the United States by sinking $215 million in the California-based chat application Tango.
Together with some of Tango's prior investors, Alibaba has led a $280 million investment round in the free mobile mess
aging
service, according to a blog written by the startup's chief executive officer Uri Raz and chief technology officer Eric Setton on Thursday.
The two senior executives, who are also founders of the 4-year-old Tango, said they are very excited to continue to build upon their foundation of free communications, while extending into new growth areas in social networking and content.
"We know that we can't do it on our own, and, for that reason, we couldn't be more excited to announce our newest investor, Alibaba Group," they said.
It was reported by The Wall Street Journal that Alibaba's investment in a minority stake of Tango valued the company at about $1 billion. The public relations office of Alibaba confirmed the investment on Thursday but refused to comment further on the deal.
The investment makes mobile messaging applications the hottest asset in the tech world. Facebook Inc acquired WhatsApp, a popular mobile messaging application, for $19 billion in February.
Despite the fact that Tango has no business in China, the company does have 200 million registered users spread across the US, Europe, the Middle East and Asia. Analysts said the move will not only help Alibaba pave its way to an upcoming and possibly the largest initial public offering in the US but also boost the company's strength in mobile.
Zhuo Saijun, an analyst with the Beijing-based Internet consultancy Analysys International, said with the investment in Tango, Alibaba will be able to tell a better story to investors. "Because Tencent's WeChat enjoys a dominant position among mobile chatting apps in China, Alibaba desperately needs to find a strong target to fill its gap in this area," Zhuo said.