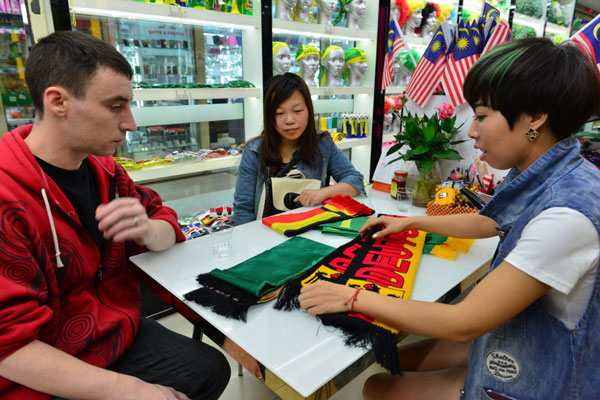 A buyer visits a vendor's shop in Yiwu, Zhejiang province. Lyu Bin / For China Daily
Most vendors at the Yiwu-based China Commodities City - the "world's largest small-commodity wholesale market" - spent half of their lives doing business in a brickandmortar market.
Commodities City actively taps e-commerce, and for most vendors establishing a successful online business is a headache. A professional photographer is essential to make products look good; an able Web designer vital to build a nice online store; tech people and marketing talent are indispensible to draw customers after any online store is launched.
Help may be at hand as increased demand leads to a rise in new companies geared to aiding others in setting up an online presence. Huang Chunxiao, founder of Yiwu Yidao eCommerce Co Ltd, is one such operator in Commodities City.
"We help them to build up online stores from scratch, and we offer services to run the store so that it can be easily picked up by some key words and have good sales," Huang said.
Huang's company started to offer online store operation services in 2012. He said the majority of the 75,000 vendors at Commodities City are at their 50s and not sufficiently techsavvy. His type of service is increasingly in demand at the wholesale market in Yiwu.
"Our company's business grew 40 percent to 50 percent in 2013," the 32 year-old said. "The business is expected to grow 80 percent this year compared with last."
Yiwugou, Commodities City's official online marketplace began operations in October 2012. Traders also use other Chinese online platforms, such as Taobao and Tmall, which are run by Alibaba Group Holding Ltd.
Local government data show that overall e-commerce transactions in Yiwu city increased 64 percent year-on-year to 85.6 billion yuan ($13.9 billion) in 2013. Growth for Huang's company is in line with the development of e-commerce in the city.
He declined to disclose his company's revenue but said the number of employees has grown to 40 from three in 2012. He signed a dozen new clients this year, and his services are charged through contracts that are renewed annually.
"Generally speaking, the fee of our service is a fixed payment plus commission. We get about 3 percent to 5 percent of the sales of the online store and the fixed payment varies from 30,000 yuan a year to 200,000 yuan a year, depending on different e-commerce platforms," he said.
The competition in this emerging business is not very fierce, but keeping the right talent to offer a high-quality service is key to the success, Huang said.