Zoo celebrates Sino-Belgian ties
Updated: 2014-03-31 02:08
By Tuo Yannan in Brussels (China Daily)
Comments
Print
Mail
Large
Medium
Small
Ceremony in classic Chinese garden to open panda pavilion
Cute red pandas and elegant Chinese red-crowned cranes wander among beautiful traditional Chinese garden-style rocks and pavilions, surrounded by rows of bamboo and Chinese archways.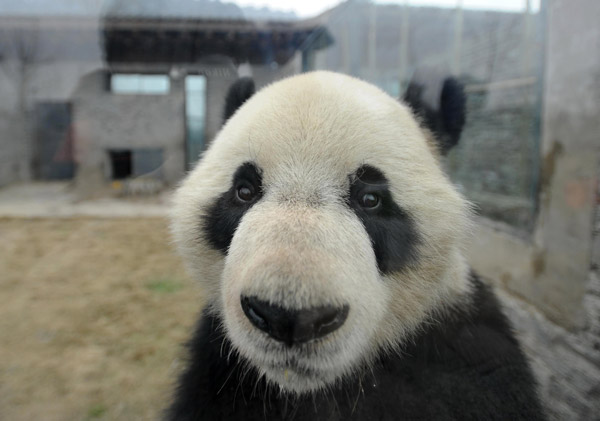 Xing Hui rests in his habitat in Chengdu, Sichuan province, on Feb 21, before his departure for the Belgian zoo Pairi Daiza. XUE YUBIN / XINHUA 
It is difficult to imagine that this retro authentic Chinese garden is on the outskirts of a small town in Europe.
Pairi Daiza, a zoo whose name means "Enclosed Garden" in ancient Persian, is in Brugulette, about 60 km south of Brussels.
A classic Chinese garden, the biggest in Europe, has been built inside its walls. A 6,500-square-meter panda habitat, including day and night chambers, is inside the garden and became the new home of a special Chinese couple — giant pandas Xing Hui and Hao Hao — about a month ago.
Although the pandas have been in his zoo for more than a month, Eric Domb couldn't contain his excitement while talking about the pair.
"Giant pandas are unimaginable animal species. Despite their large size, they are vegetarians! Not to mention how cute they are when they are walking!" the zoo owner said with a laugh.
Domb said his obsession with pandas began in his childhood. Domb had a toy panda when he was a kid, never letting it go even when sleeping.
The zoo's new pandas, both 4, are being showcased as a symbol of Sino-Belgian friendship. When they arrived in Brussels on Feb 23, they were given the sort of red-carpet treatment usually reserved for heads of state, with Belgian Prime Minister Elio Di Rupo welcoming them at the airport.
On Sunday, President Xi Jinping and Belgian King Philippe were to attend the opening ceremony for the panda pavilion during Xi's visit to the country. The panda pavilion will open when the zoo reopens in early April.
"Xing Hui and Hao Hao are not only friendship ambassadors to Belgium, but also symbols of the deepened ties of China and Belgium and Sino-EU relations," Domb said. "I hope through the arrival of the pair that more and more Europeans will be interested in Chinese culture and get to know the country better."
The venue, which cost about 8 million euros ($11 million), provides constant temperature of 18 C, and even the lighting system has to be strictly monitored. The night chambers cover 17 square meters, while private chambers give each panda about 40 sq m.
"The pavilion surroundings could remind people of the beauty of the Sichuan Wolong region, the pandas' home. I hope it can surprise our distinguished guests on Sunday," Domb said.
Thanks to the zoo's similar weather and environment to that of the panda's native region, the pair, accompanied by several Chinese breeders, completed their quarantine period. Now they can move about freely and enjoy their new home. Domb said the pandas have adapted to their new abode and are in good physical condition.
In his Chinese garden is an archway with a Chinese inscription that says Zhongguomeng, or "Chinese dream."
"My Chinese dream is an 'open eyes' dream for all the beauties of China, which is not only a country as a superpower, but one with fantastic culture and creatures, and good food and art," Domb said.
Speaking of good Chinese food, the zoo built a Chinese building in the Chinese garden that serves ethnic food and tea, and where Domb will treat Xi and King Philippe to his home-grown Chinese tea.
"I believe that Xi's visit is a beautiful sign of friendship between the two countries, and now the only thing I want is to make him feel relaxed and happy in my zoo," Domb said, smiling.