Li calls for open, cooperative global economic system
In a message to commemorate the 35th year of China's attendance at the Davos World Economic Forum, Premier Li Keqiang called for a more open and innovative global trade and economic system to achieve common prosperity.
"China, as a responsible major country, will be firmly committed to the path of peaceful development," Li said in his message to the international conference on Wednesday.
"China will make a greater contribution to expanding the common interests of mankind, and play a constructive role in advancing the lofty cause of world peace and development."
Commenting on this year's theme of reshaping the world, Li said it is important to "institute and improve an open, cooperative and win-win global economic and trade system".
Foreign Minister Wang Yi is leading a Chinese delegation to the forum that will be attended by thousands of world political and economic leaders.
During the four-day discussion, China's reform and economic outlook, and the East Asia security situation are high on the agenda.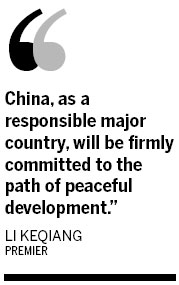 Li called on the international community to "embrace the spirit of solidarity in difficult times, discard zero-sum practices, and join hands to meet common challenges, urging developed and emerging economies in particular to bring out their respective strengths to drive global economic growth by acting as the "double engines" of the global economy.
"This way, we will open up a new prospect of economic globalization featuring win-win cooperation," Li said.
Richard Solomons, CEO of InterContinental Hotels Group, said that as an international business it has a duty to help shape global debate on the key issues facing companies and government.
Solomons, a newcomer to the winter forum in Davos, said holding the forum's annual meeting of "new champions" in Dalian and Tianjin shows China's standing and its importance to the global agenda.
"We see the launch of the Chinese dream and reform agenda as a positive sign that China's new leadership wishes to inspire its citizens in coping with the challenges in continuing domestic reform, while simultaneously focusing on the quality of development and environmentally sound urbanization."
China has a hugely important role in the conversation on "reshaping the world", he said.
"The World Economic Forum is an excellent platform for China and other major players around the world to do just that, and to inform the debate around balancing needs versus international obligations."
Daniel Gros, director of the Centre for European Policy Studies in Brussels, said a forum like Davos obviously cannot change the world but it can be a useful venue for political leaders to discuss the challenges the world economy faces.
"That is what it does in an excellent way. And every participant in Davos knows that China is the big story in the world's economy and there is almost no discussion in which China does not figure prominently."
fujing@chinadaily.com.cn
(China Daily 01/23/2014 page11)
Today's Top News
Editor's picks
Most Viewed