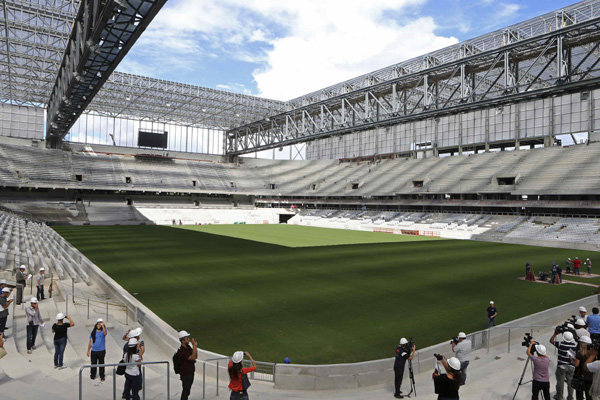 Journalists visit inside the Arena da Baixada soccer stadium as it is being built to host matches of the 2014 World Cup in Curitiba, February 24, 2014. Work continued on the stadium a week after FIFA decided to stick with plans to hold World Cup matches in Curitiba in spite of the construction delays. 
[Photo/Agencies]
CURITIBA - Brazil's Arena da Baixada World Cup stadium officially reopened on Saturday after more than two years of construction work.
The stadium's first World Cup test event saw Atletico Paranaense draw 0-0 with J. Malucelli in Brazil's Parana-state league.
Only 10,000 tickets were made available for the match, less than a quarter of the venue's capacity.
Arena da Baixada is one of three stadiums yet to be ready for football's signature tournament, to be held from June 12 to July 13.
The venue in Brazil's south will host four World Cup matches: Iran-Nigeria (June 16), Honduras-Ecuador (June 20), Australia-Spain (June 23) and Algeria- Russia (June 26).