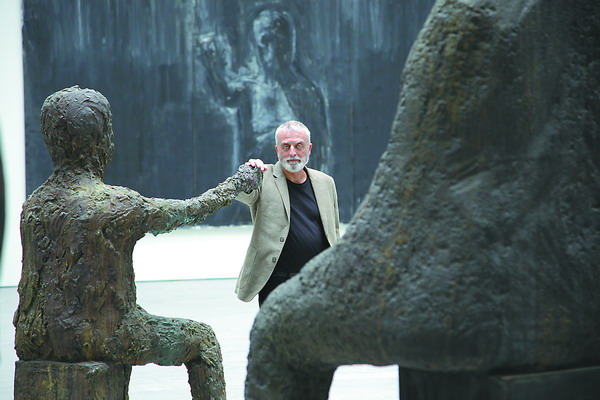 Provided to China Daily
He imagines two head-shaped sculptures that are taller than a person.
"People will need to look up a little at them," he says, drawing the outlines on the China Daily reporter's notepad.
"They should be positioned facing each other."
Rather than clear features, the faces would respectively bear the Chinese character for the word "human" and the first letter of the Hebrew alphabet, which shares the same meaning.
Details are irrelevant, Lellouche says. Art should not be personal but rather express archetypes that capture the essence of the human condition.
The centerpieces of his exhibition seem to prove his point. They're five larger-than-life sculptures of human portraits, positioned in a group, as if choreographed onstage.
The artist is particularly interested in presenting the invisible interactions and silent tensions among these items.
Standing, sitting or painting, head portrait or skeleton - the artist doesn't endow any of the figures with facial features.
Jewish belief opposes idol worship, Lellouche says. As an artist, he became more aware of idolization in a commercial world. People were so keen to create idols because idols bring easy money, but he says he dislikes this.
"I'd consider all my work an exercise," Lellouche says.
"A critic used to say 'a piece of art finished is finished', and that's not what I want."
The exhibition's title, The Ateliers, hints to this.