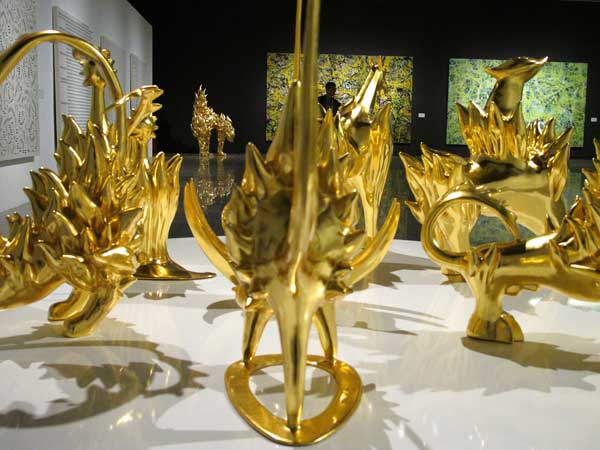 Huang's sculptures Auspicious Beasts shown at the National Museum of China. Photos by Jiang Dong / China Daily
Huang Chih-yang doesn't like to be categorized, either as a contemporary artist, an ink painter or a sculptor. He prefers to describe himself as a diligent laborer who has practiced art all his life.
The Taipei native, 49, lived in New York for a couple of years before moving to Beijing in 2006. He has been working with varied media, including ink pigments, installation, sculpture and video, by which he demonstrates his critical thinking of Oriental cultural customs and Western modern civilization.
"An artist is fundamentally a craftsman, but with insightful and sometimes even quirky thoughts," he says.
Huang views his current solo exhibition at the National Museum of China, The Phenomenology of Life: Chapters in a Course of Study, as a work report of his craftsmanship in the past eight years, as well as his thoughts from an artistic career spanning three decades.
"Either in the past or the modern time, an artist should work, practice and think unsparingly, through which one can accumulate certain art vocabularies and symbols that give full expression to one's cultural lineage," he says.
"For me, the practice of art is a lifetime pursuit."