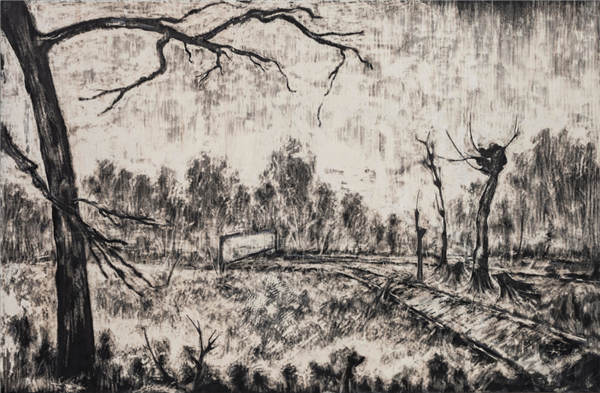 Artwork by Qiu Fei. Photos provided to China Daily
Qiu Fei's latest mixed-media works largely depict empty wasteland and withering trees. But he doesn't intend to convey sorrow or hopelessness. He wants to express that such a bleak scene means no end of life; the dead woods still encapsulate great potential for renaissance, which shows the cycle of life in a more powerful manner than a short-lived flourish of blossoms. Titled All in Ruins, his solo exhibition brings a sense of mystery and elegance to those dying trees. Born inShandongprovince, Qiu, 33, received a master's degree at the engraving department of the Central Academy of Fine Arts. He divides his work and life between Beijing and Jinan.
10 am-10 pm, until May 3. Zhong Gallery (Beijing), Unit 118, 1st floor of Kerry Center Mall, 1 Guanghua Lu (Road), Chaoyang district, Beijing. 010-8529-6090.