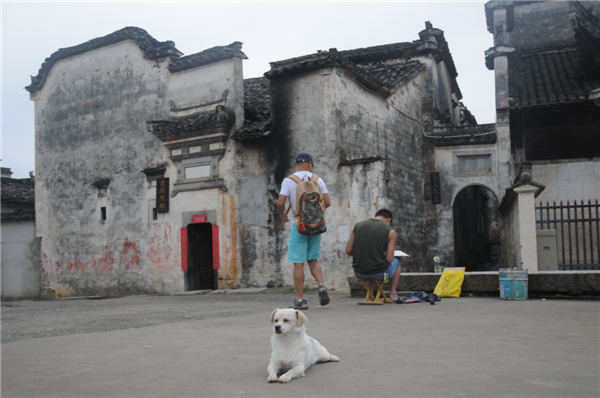 The Hui-style buildings in a village in Yixian county. Photos by Xu Lin/China Daily
While the magnificent peaks stretching endlessly and pretty views of the Huangshan Mountains attract many travelers, one can also enjoy ancient villages, rebuilt old houses and natural scenery by visiting the surrounding areas, such as Yixian county and scenic spots at the foot of the mountains.
In 2000, the World Heritage Committee inscribed Ancient Villages in Southern Anhui-Xidi and Hongcun-on the World Heritage List, due to their well-preserved Hui-style architecture. Many of the structures were built between the 14th and 20th centuries.
The two traditional villages in Yixian boast elegant waterways and gardens, tranquil alleyways, ancient archways and ancestral halls. It's not uncommon to see people carefully painting the beautiful scenery there, seated on small stools in front of drawing boards and palettes.
Surrounded by high walls shaped like horse heads for fireproofing, Hui-style houses with black tiles and white walls were decorated with artworks made of brick, wood and stone. Such abodes have square skylights to reduce the heat of sunshine, drain water and create good ventilation.
Hanging in each home are several couplets carved on wood that describe the family's life philosophies, Confucianism and such virtues as being hospitable.
The county government has been striving to attract social capital to fund protection and making sustainable use of ancient buildings. Some are rebuilt as homestays, cafes and galleries to boost tourism and culture.
Take Pig's Heaven Inn in Xidi village. Since its 2006 opening, the rustic charm of living in an ancient house with period decor has continued drawing foreign ambassadors and such celebrities as Japanese composer Mamoru Fujisawa (professionally known as Joe Hisaishi).
Last year, the county opened a third inn in the fields of Bishan village. The wooden house, once an oil mill, now features a spacious public area, including gardens and just 19 rooms.