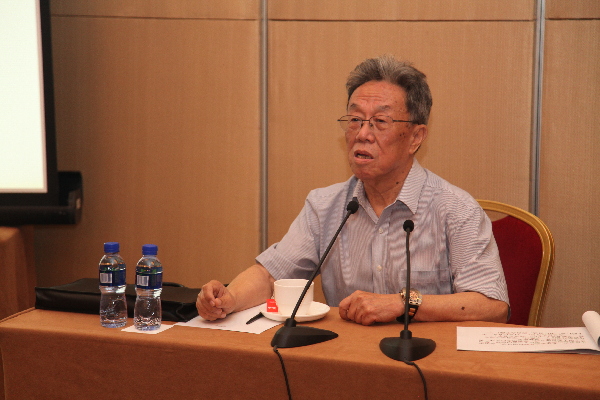 Chinese writer, former Ministry of Culture, Wang Meng. [Photo provided to chinadaily.com.cn]
"The Chinese people have their very own logic that sometimes foreigners find hard to understand," said Chinese writer Wang Meng in a lecture at the 2015 Visiting Program for Young Sinologists held in Beijing Monday.
"The Chinese people do not pay much attention to Western logic, because they have their very own logic," he said, "and such logics are derived from the Chinese culture, where morality is emphasized more than facts."
Wang borrowed a saying from the Analects of Confucius to explain why leaders in China, especially politicians, cannot have moral defects, such as having an affair, a mistress or the like. "To run the country with morality wins a ruler the respect that the Pole Star gets, circled by numerous other stars," he quoted the saying.
He said it is also important for the people to live up to standards to the social moralities so long as such moralities are still valued by the society. "In most circumstances, morality is more than that of ability, because they believe this is the prerequisite to do a job well," Wang explained.
Wang Meng also explained some of the controversial Chinese phenomena from the perspective of Chinese classics. For example, Chinese's being impatient in public places, making loud noises, etc. He said the lack of public discipline goes all the way up to the ancient philosophy of emphasizing self-improvement that people pay too much attention on striving for a better future for themselves and their families, and ended up doing poorly in public places.
The sinologists attending the lecture were quite intrigued by his interpretations. They nodded and bursted into laugh every now and then while they seemed to have grasped the nuances of the Chinese culture.