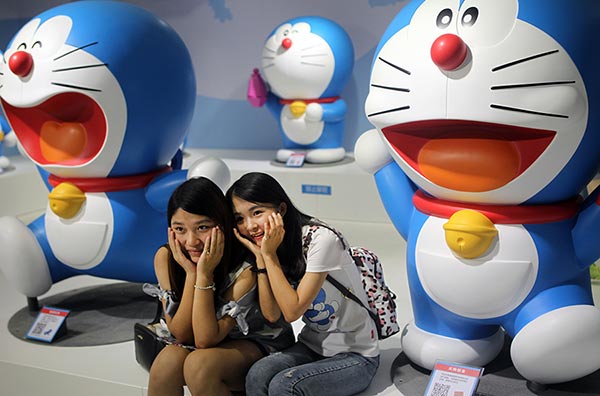 Fans of the popular Japanese cartoon character Doraemon visit a special exhibition marking the 45th anniversary of the Doraemon manga series at Joy City mall in Beijing. Photo provided to China Daily
Most Chinese born in the early 1980s shared a similar childhood dream-to have a homestay robot as powerful as Doraemon, the Japanese animation character that was officially introduced to the country nearly 30 years ago.
Childhood nostalgia now has helped fuel a box-office miracle. The 3-D computer animated film Stand By Me Doraemon raked in more than 327 million yuan ($52.7 million) in its first five days since May 28, making it the highest-grossing Japanese movie ever in the history of mainland cinemas.
It has also hit a single-day record by taking in 88 million yuan on Sunday, beating the 2011 Hollywood animated blockbuster Kung Fu Panda 2 (67 million yuan) to dominate the box office for animated titles on the mainland.
Based on the Doraemon manga series that was first created in 1969, the tale, also the finale of the Doraemon movie franchise, combines seven short stories to chronicle a complete timeline-from the first time the gadget cat travels back in time from the 22nd century to help preteen boy, Nobita Nobi, known simply as Noby in the English version, until Doraemon bids farewell to its beloved human friend.
The original version, written and illustrated by a two-author team known by their pseudonym Fujiko F.Fujio, includes 1,345 short stories across 45 volumes.
In 1987, the Japanese manga series was first introduced as an 18-volume illustrated collection by the People's Fine Arts Publishing House. A 1991 animated TV series premiered by CCTV made the "cat-type" robot a household name among the country's children and teenagers.