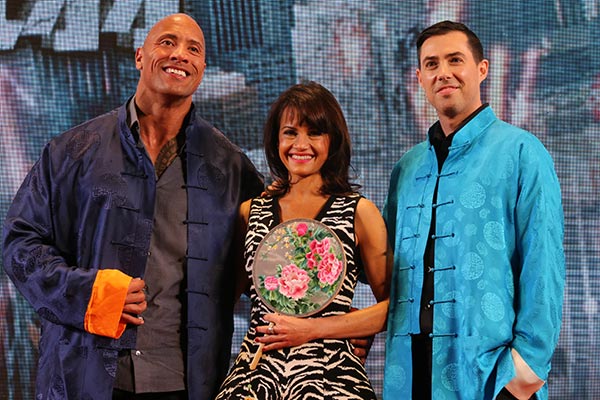 The cast of San Andreas, Dwayne Johnson (left) Carla Gugino (center) and director Brad Peyton, meet with Beijing media before the movie's release. Jiang Dong / China Daily
California is collapsing!
In the latest Hollywood disaster thriller San Andreas, a series of massive earthquakes-including the biggest in history-rip cities apart as high-rises fall, the earth shifts and a tsunami washes over San Francisco.
The action film, starring A-list actors Dwayne Johnson and Carla Gugino, opened in mainland theaters on Tuesday.
The first disaster drama released this summer season, it grossed 16.15 million yuan ($2.6 million) on the first day in the world's second-largest movie market.
The movie made headlines in China, when Johnson, more familiar to fans for his wrestling name The Rock, sang the Chinese song Your Sweet Smile, by Taiwan legendary singer Teresa Teng, during his Beijing promotional tour on May 28.
Avoiding the simple cliche "nihao" (hello)-the opening gambit of many foreign stars at their China media events-the cast of San Andreas appeared more prepared to excite moviegoers on this side of the world.
In a one-minute trailer tailored for the Chinese market, Johnson asks in Mandarin, "Wo men yue ma?", a popular network greeting literally meaning "Are we dating?", to lure Chinese fans to the cinemas.
The former professional wrestler even won the title "the king of selfies" from local media, after he used a smartphone to snap portraits with more than 100 reporters. That was no surprise from Johnson, who recently set a Guinness World record by taking 105 portraits in three minutes alongside screaming fans at the film's London premiere last month.
"I connect with fans around the world. The unique thing here for me is the reaction from Chinese fans," he tells China Daily.