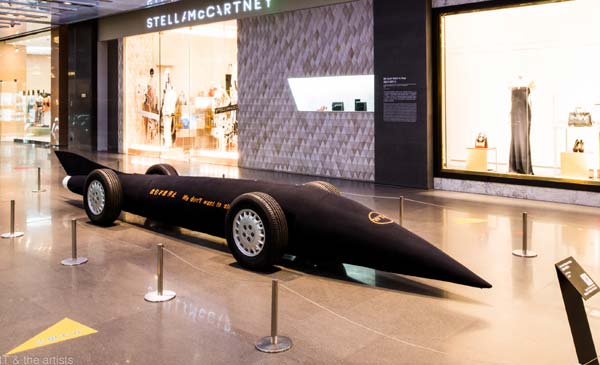 We Don't Want to Stop, an installation by Shi Yong. Photo provided to China Daily
Prose written in neon lamps. A toy-like aircraft. And a bat's suede garment.
These works are on display at In and Out Reel ShanghArt, a contemporary art exhibition held in Shanghai's downtown mall Reel. The 40 pieces include paintings, installations, videos and photographs.
"(The exhibition is) funky, blurred, exposing, twisting and hilarious," visitor Cheng Xilin says.
The 31-year-old is especially impressed by Shi Yong's installation A Bunch of Happy Fantasy.
A Bunch of Happy Fantasy is a poem written in "illuminating" Chinese characters. Neon lamps create upside-down character strokes on staircases.
Shi's work is a personal translation and imagining of consumerism that conveys urban life, routines and emotions as shining lights. The works materialize text and ideas, the artist says.
Another work by Shi is titled We Don't Want to Stop. The aircraft-shaped machine is covered in woolen cloth. Components include buttons, cloth sacks, suit sleeves and Buick tires. At first glance, it looks like a toy, or a child's art class project made from recycled materials.
But the artist says it's a representation of the fast-moving industrialization of the city and the world.