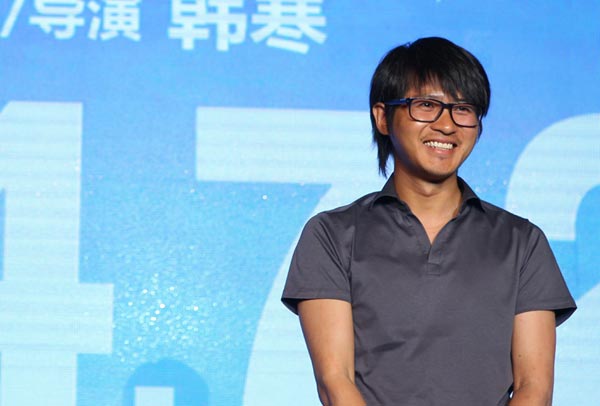 Han Han promotes his directorial debut Hou Hui Wu Qi in Beijing. Provided to China Daily
"Come on, I think I know what you want to ask," says Han Han, China's famous author, racer and opinion leader at his first news conference talking about his directorial debut. The 32-year-old has just wrapped up the filming of Hou Hui Wu Qi - literally "We won't meet sooner". It is a road-trip comedy about youth and farewells, "but not slapstick. I don't like characters-shout-at-the-camera comedy."
The newcomer to the film industry is confident when speaking to the media - but he is no stranger to the press pack. Like most celebrities who become famous at a young age, Han has received accolades and criticism in equal measure, ever since he won the top prize in New Concept, a well-known national writing contest, when he was only 18.
He was considered a writing prodigy but later faced allegations of ghostwriting. He fought with veteran writers online, and refused to join the Chinese Writers' Association. His fans - his Sina Weibo micro blog account has 38 million followers - worship him, while his critics disdain his works and dismiss them for not being serious literature. He is also an experienced racecar driver, holding three national trophies.
The first question concerned censorship. Without a proper rating system, authorities censor films before they are theatrically released in China. The same policy applies to book publishing.
"As a writer of course I hope any cultural control policy will be as loose as possible," Han says. "Censorship has indeed restricted us for a long time, but I hold firm in my belief for a better future. This film does face some uncertainties, but I promise you, it will premiere on July 24."
He was then asked about the comparison between his film and Tiny Times, directed by writer Guo Jingming.