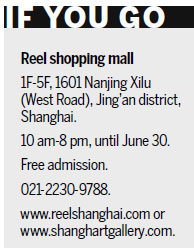 "We can't stop, and we don't want to stop," says the installation's description.
Another highlight is a series of animals' clothes - an outfit for a bat, a coat for bird and a pair of boots for an ostrich.
These avian garments are metaphors for human beings' dilemma - if we were birds instead of humans, what would we choose: the ability to fly or charming attire? Is the clothing a blessing or a curse, a freedom or a burden?
Visitors might have their own answers after seeing the works and reading the description.
Many of the artworks are collections of ShanghArt, a gallery in Shanghai's Taopu area. The Reel gives an opportunity to the contemporary artworks to be showcased to the public, drawing the public closer to the art world, according to a joint statement of ShanghArt and Reel, co-organizers of the exhibition.
"These artworks are especially troubling, astonishing and inspiring when you are torn apart by the beautiful, fancy fashion items in the stores and these piercing, questioning artworks," says Lu Miao, a visitor to the exhibition.
"I guess this is the point of pushing people to redefine what is really in and out."
wuyiyao@chinadaily.com.cn