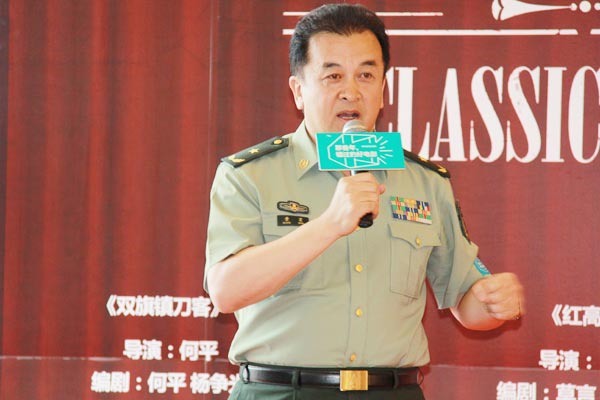 Famous Chinese short act actor Huang Hong attends a press conference on "Classic Movie" in Beijing on June 12th, 2014. [Photo/CRIENGLISH.com]
An activity called "Classic Movie" was launched in Beijing on July 12. It aims to show old classic Chinese films.
The event is jointly organized by Huaxia Film Distribution Co., Ltd, China Film Producers Association and CCTV-6.
Fu Ruoqing, executive director of Huaxia Film Distribution Co., Ltd, and famous Chinese short act actor Huang Hong attended the launching ceremony.
The first batch of films to be shown again include Zhang Yimou's "Red Sorguhm" and "Mountain, People and Dog (1999)" directed by Huo Qijian.
Three hundred and fifty cinemas have participated in the activity.
Fu told a CRI reporter the motivation behind the event and the plans for future development.
"The success of Zhang Yimou's latest film 'Coming Home' in box office inspired us. We chose to show again classic films directed by the fifth generation of Chinese film directors. In future we would choose to show films according to the topics. There would be similarity in each season when we organize the activity."
For the latest information related to the activity, movie fans can follow @Cuoguo de Hao Dianying at weibo.com.