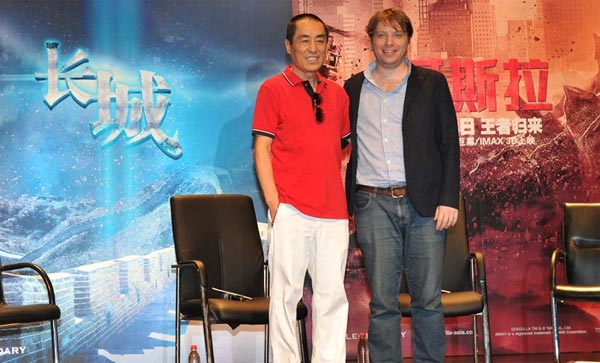 Chinese director Zhang Yimou and British director Gareth Edwards attend a press conference in Beijing at the Beijing Film Academy on June 11, 2014. [Photo/Mtime.com]

Chinese director Zhang Yimou confirmed that his next project "The Great Wall" will be a co-production between

China

and the

US

.
The veteran director attended a press conference with "Godzilla" director Gareth Edwards at the Beijing Film Academy yesterday. Zhang spoke little about the upcoming Hollywood blockbuster, a first for Zhang, but did reveal the cast will be mostly foreign and all the dialogue will be in English.
"First of all, the scale of the production is very big so it'll be fun to shoot this film. Also, this is a new genre of film that's full of and driven by Chinese elements," said Zhang.
Zhang has been known for making dramas that describe the sensitive and delicate side of human nature. "The Great Wall," on the contrary, is a fantasy epic and it will be the first time Zhang tackles this type of film in his 30-year filmmaking career.