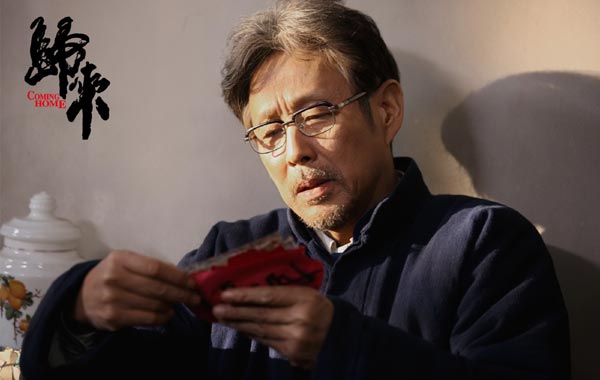 Actor Chen Daoming stars in Zhang Yimou's new film Coming Home. Photos provided to China Daily
"I was moved to tears when watching the movie ... but I am actually very tolerant of lame movies. Many of them make me weep," Mo Yan, China's Nobel literature laureate, says of Coming Home, the new film by Zhang Yimou.
A discussion between the two opened a retrospective of Zhang's 30-year film career recently in Beijing. The audience had to read between the lines during the subtle and witty exchange.
The discussion started with Zhang's new film, which was released on May 16 and grossed 200 million yuan ($31.7 million) in a week. Starring Gong Li and Chen Daoming, it traces a professor who returns home after years spent at a labor camp during the "cultural revolution" (1966-76), only to find his wife had no recollection of him due to mental trauma in that chaotic decade. The professor's suffering during the political upheaval is hardly mentioned.
Some critics say Zhang turned an epic tale into a melodrama about a middle-aged couple, but others believe reflecting a national disaster via a family tale is a challenging approach that deserves appreciation.
"The story is a cliche," Mo tells the stunned audience, and then says, "but Zhang makes it emotionally powerful."
Zhang was not irritated. "People like melodramas," he says. "Theatrical releases need to be melodramatic, or they will soon be withdrawn from today's Chinese theaters. I try to convey something unique from a melodrama, a story many people have told before, which is very challenging."