Zhang Yimou and Gong Li on their 9th collaboration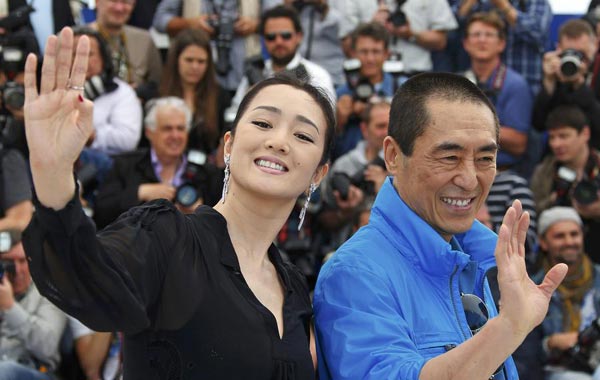 Director Zhang Yimou (R) and cast member Gong Li pose during a photocall for the film "Coming Home" (Gui lai) out of competition at the 67th Cannes Film Festival in Cannes May 20, 2014. [Photo/Agencies]

Zhang Yimou
and
Gong Li
have met with the media following the screening of their new
film
"Coming Home" at the
Cannes Film Festival
.
Gong Li says Zhang Yimou gave her plenty of freedom and trust to interpret her character as she saw fit.
"He gave us (actors) a lot of space. Also for this film, no one could help me. This is a character that nobody can help me with. Your gaze, your behavior, your body language, these are the things that other people can't teach me. So the director told me that you need to go experience life and decide for yourself how to interpret the character ".
For his part, Zhang Yimou has praised Gong Li as "one of a kind."
"She's the actress whom I've worked with the most. Together, we've made about nine films. The Chinese film industry is booming right now. We could be the biggest film market in the world in five years. However, there are only a handful of good actors. Because when the market is this big, you should have a lot of great actors with different age groups, but there are not too many. So for her... If she didn't act in this film, I don't think there's anyone else who can do it. She's one of a kind of her generation."
Together, the pair have made some of the most influential and important films in modern Chinese cinematic history, including "Raise the Red Lantern," "The Story of Qiu Ju" and "To Live."
It's been nearly 2-decades since Gong and Zhang stepped on the red carpet together at Cannes.