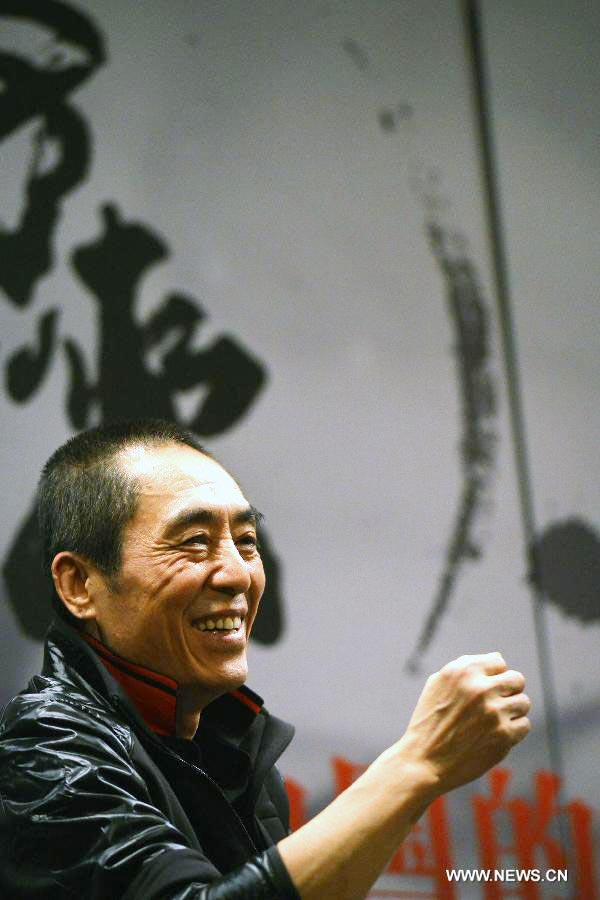 Film director Zhang Yimou attends a dialog with two-time Oscar-winning director Ang Lee (not in the picture) in New York, the United States, March 27, 2014. The two film directors on Thursday held a dialog about Chinese film culture and Zhang's new movie "Coming Home". [Photo/Xinhua]
Zhang Yimou is to direct his first Hollywood film, the director of Hero and the opening ceremony of the Beijing Olympics said in a dialogue with Ang Lee at New York University today.
Zhang said he would make a "Hollywood blockbuster", which he said would be "a big challenge" because it will be in English and he cannot speak the language. Zhang then asked for advice from Lee, so far the most internationally acclaimed Chinese director, on how to tell a global story. Lee suggested Zhang become more aware of the grammar of Hollywood films, while injecting his own philosophy.
"I was proud of Hulk when making it, but the audience hated it. When making Life of Pi, I was more mature," Lee said. "The ending was too cruel, so I thought a lot on how to beautify it to make religious people and children happy, and at the same time I managed to say what I really wanted to say."
As one of the first to see Zhang's new film, Coming Home, which will premiere in May in China, Lee said he was surprised at the film's serene and restrained tone, a sharp contrast with Zhang's earlier works, in which the use of strong colors impressed him deeply. Zhang attributed the change to the story's nature, as it is a personal story set in a depressing era.
"This time I tell a very personal story, about a three-person family, and reflect on history through their stories," he said. "I actually made this film in the way Lee made Pushing Hands, The Wedding Banquet and Eat Drink Man Woman."
In the United States, Sony Classic will distribute the film, about a writer's return to his family after his suffering in the Cultural Revolution (1966-76). Lee said he hopes for more freedom for filmmakers in the growing Chinese market, while Zhang called for a more diversified turnout from his fellow directors.
Lee's next work, he said, would be a film about boxing. He is now seeking financing for it. "It will be a film about boxing, faith — a male film," he said.