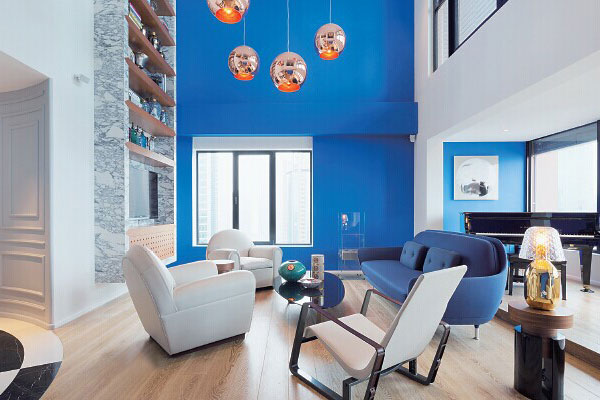 Dariel remodeled a cream-colored duplex in Shanghai with white spiraling stairs, mosaic fl oors, blue walls and grey-toned wood panels.[Photo provided to Shanghai Star]
Thomas Dariel mixes European styles with Asian cultural influence, juxtaposing blinding colors with incongruous furniture. Matt Hodges reports.
Paris-born interior designer Thomas Dariel has worked on various prestige projects since opening his Shanghai studio in 2006. Highlights include Chinese construction firm Vanke's Shanghai showroom; Yucca, David Laris' Mexican-themed cocktail lounge; Blossom Hill Boutique Hotel; and a residential property in Shanghai dubbed "the Blue Penthouse".
Yucca highlights one of the Frenchman's trademarks: His penchant for juxtaposing bright-colored coats of paint with monochromatic fl oor tiles. For the 1,000-sq-m Vanke showroom, he reinterpreted a traditional Chinese village in contemporary terms using narrow, mirrored corridors; circumambulatory, angled walkways; and trunk-shaped white beams.
Dariel Studio is now giving Beijing's legendary Club Mix near the Workers' Stadium a revamp, starting with its underground fl oor (Re) Mix. The studio's hyperactive founding father discusses another yearlong project (Project X) he has just completed for a wealthy Beijinger, and his love of funky colors, jarring juxtapositions and Italian masters.
Local artists can also capitalize on Dariel's charitable nature. Since relocating to a renovated 1910 villa in downtown Shanghai last year, he has offered the ground floor of his five-story studio as a free exhibition space. It is prominently positioned near Jing'an Temple. He says conceptual art shows will be rotated monthly.
For "Project X", the brief from the client, a publicity-shy Chinese man with a phalanx of bodyguards, was simple: Design me a home that refl ects my personality. In other words, Dariel was given carte blanche.
"It was my craziest, most eccentric experience in China," recalls the designer, who works exclusively with Chinese customers. He mixes European design styles with Asian cultural influence.