Sips of ningxia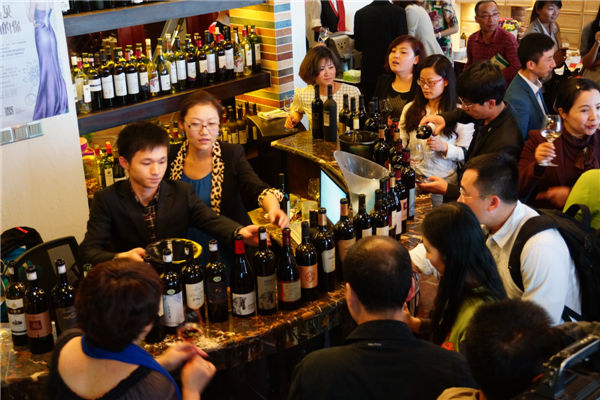 Wine experts and consumers attend a Ningxia wine tasting held at Green Goat Wine Club in Yinchuan,capital city of the Ningxia Hui autonomous region. Photos by Ye Jun / China Daily
The soils east of Helan Mountain are producing wines that are changing the world's impression of Chinese vintages. Ye Jun reports in Ningxia.
When Chinese people hear a mention of the Ningxia Hui autonomous region, they think of wolfberry, good lamb and then, barren saline and alkaline soil. But in recent years, the area has become known for one more specialty: Chinese wine.
This is only the fourth year since Wang Fang returned to China, after living as a housewife in Germany for 12 years. But the owner of Kanaan Winery in Ningxia has already won international acclaim for the wines she makes.
One of those, a cabernet sauvignon 2011, was recently recommended by three international judges at the 2014 China Wine Development Summit held in Shanghai in March. The experts were Jancis Robinson, Ian D'Agata and Bernard Burtschy.
Wang says a similar wine from the winery had been very well-received at an event in Adelaide, Australia.
"I'm taking the shade of trees my predecessors planted," she says, citing a Chinese idiom meaning she's getting benefit for what people have done before. That cabernet sauvignon 2011 was made with grapes her father planted 14 years ago in 1999.
Her father, Wang Fengyu, was among the first generation of winemakers in Ningxia's Helan Mountain. He was one of the founders of Helan Qingxue Winery, which won an International Trophy at the Decanter World Wine Awards 2011, for the Jiabeilan Grand Reserve 2009.