Harvest time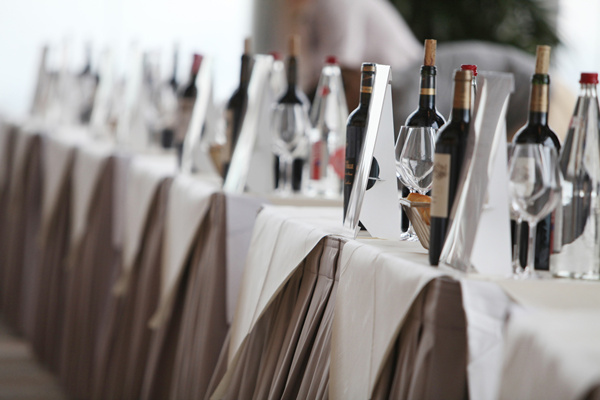 Wines wait to be sipped by distributors and purchasers at a recent tasting event during the Vinexpo Asia-Pacific 2014 held in Hong Kong. Photo provided to China Daily
Wine and spirits from far-flung corners of the globe helped to make this year's Vinexpo in Hong Kong a truly international extravaganza. Rebecca Lo samples a few of the 90,000 glasses poured.
Size does matter. The Vinexpo Asia-Pacific 2014 held from May 27 to 29 took place over roughly 15,000 square meters in the Hong Kong Convention & Exhibition Centre, an expansion of 50 percent from Vinexpo 2012. Roughly 16,800 attendees, including importers, distributors and purchasers, gathered in Hong Kong to swirl and sip, an increase of 6.4 percent. A total of 13,000 exhibitors from 34 countries, including Mexico, Greece, South Africa and Chile, vied for attention with lavish booths, unusual products and gifts of the gab.
Chairman of Vinexpo Xavier de Eizaguirre welcomed guests at the opening ceremony on the morning of May 27 alongside the new CEO of Vinexpo Guillaume Deglise. They were joined onstage by special guests - French consul general for Hong Kong and Macao Arnaud Barthelemy, Hong Kong's secretary for commerce and economic development Gregory So and Chinese actress Zhao Wei - who gave their takes on the wine industry and its impact on greater China.
Zhao, the owner of Chateau Monlot, a Saint-Emilion Grand Cru, then led a tasting of vintages from her winery. It was just one of 54 Vinexpo Academy events that included 30 seated tastings, five standing tastings, 15 conferences and four master classes that drew more than 9,000 industry professionals. With Lucaris as Vinexpo's new official partner, about 90,000 glasses were used over the three-day fair.
France, still the dominant country at a fair that originated in Bordeaux in 1981, shared the third level with producers of spirits and booths showcasing standalone products, such as Hattingley Valley, a sparkling-wine maker from Hampshire in England. Spiritual, a bar designed to highlight international spirits and how to enjoy them in cocktails, stood at the center of the floor and proved to be a popular meeting place for many weary attendees.
"Buyers from China have increased slightly this year," notes de Eizaguirre. "The most significant changes came from Southeast Asia with an increased number of buyers from Malaysia, Indonesia, Thailand and Vietnam."
Spiritual marks the first time that a dedicated cocktail bar was installed at Vinexpo and the first time spirits won such prominence at the trade fair. "Spiritual is a good place for producers who don't have a booth to showcase their products," de Eizaguirre says.
The Asia-Pacific region is the world's biggest spirits consumer, accounting for some 63 percent of the total volume in 2012, according to the International Wine and Spirits Research survey commissioned by Vinexpo. Yet Asian consumption tends to be dominated by locally produced brands, with imported spirits commanding a mere 2.1 percent of the market share. No wonder many first time exhibitors from countries, such as Finland and Colombia, took space at Vinexpo within a stone's throw of Spiritual.