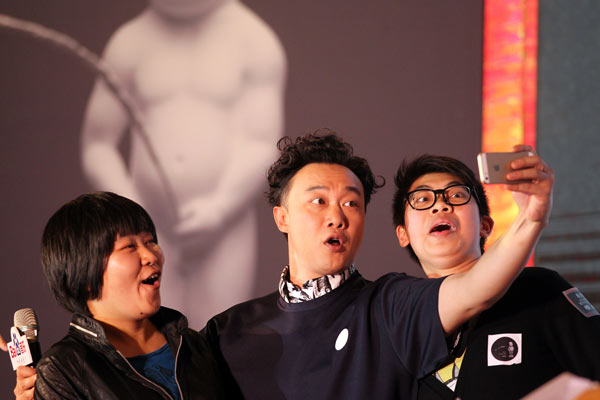 Eason Chan (center) poses with fans at the release of his latest album Rice&Shine on May 15 in Beijing. Photo by Zou Hong / China Daily
The Cantopop star's latest album, Rice & Shine, departs from his usual black humor. Chen Nan reports.
With more than 30 solo albums in Cantonese and Mandarin languages over the past two decades, Hong Kong-based pop star Eason Chan now presents his fans with new songs, ending a two-year hiatus.
A top-seller in the world of Cantopop and a big draw in the Asian scene, Chan, 39, launched his latest album Rice & Shine in Beijing on May 15. It is in Mandarin.
Singaporean singer and songwriter JJ Lin and Beijing's own Radio Mars, formed by a songwriting duo, helped Chan produce the album. Rice & Shine is split into two parts with five tracks on each, and depicts "two different sides" of the star, who is attempting to break out of his routine.
"It's been on my mind for a while to make such (an) album. So, I chose two groups of songwriters with totally different styles," Chan says.
The new album's release has been warmly welcomed by fans online, with around 100 million tuning in already.
Chan was introduced to the two young songwriters of Radio Mars by singer-actress Zhou Xun, who also had worked with them. Radio Mars was able to infuse a fresh energy into the album, Chan says.