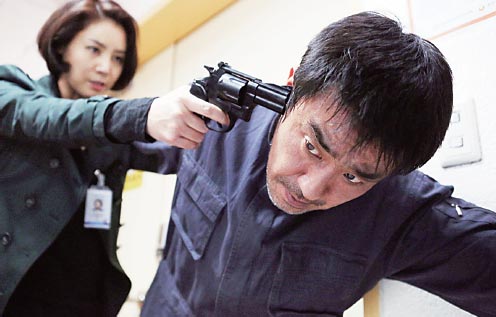 Target (2014), South Korea
Shanghai
is proud to be China's first
film
center: cinema was introduced in 1896 and China's first film was made in the city in 1905.
Shanghai didn't lose strategic importance in China's film industry until the 1990s, says Chen Xiaoli, a journalist with Wenhui Daily who has covered fi lm industry for more than 20 years.
Back in the first half of the 20th century, the latest releases from Hollywood were played in Shanghai at the same time they hit US cinemas. Audiences enjoyed China's own films with equal enthusiasm. The city nurtured China's first group of film stars and public idols, such as Ruan Lingyu, Zhou Xuan and Zhao Dan.
In 1959 China's cultural ministry published a list of the country's most famous film stars, and their images were posted in all cinemas in the country. More than half of the 22 listed were from Shanghai.
In 1990, the surviving members of China's first generation of filmmakers wrote a joint letter to the national leaders asking for a license to start China's first international fi lm festival in Shanghai. These elderly artists, such as Wang Danfeng and Qin Yi, also launched funding campaigns for the construction of facilities.
It was with their efforts that the Shanghai Film Center and the Holiday Inn, a hotel built for foreign guests attending the film festival, laid their foundations.
"Before the launch of the Shanghai Film Center, no other cinemas in the country had more than one screening hall," Chen recalls.
The first Shanghai International Film Festival was held in 1993.
Although Beijing is now home to the largest number of famous Chinese directors and film stars, Shanghai has cultivated a healthy film industry and market, Chen says. "Few people are aware that many international award-winning films have been invested in by Shanghai Film Group – Lust Caution by Ang Lee, for example." 
Related:
Something old, something renewed