Thumbs-up for local cuisine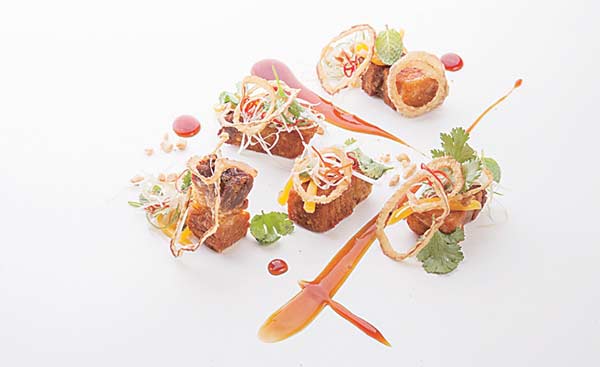 Twice-cooked Iberian black pork belly [Photo provided to Shanghai Star]
One successfully fuses a Chinese staple with Mediterranean flavors, the other recalls the zest and fond memories of the neighborhood. Xu Junqian clears some room in her tummy to sample both delights.
East meets West at these two very different restaurants on the Bund. As always, Shanghai Star is happy to slip on a napkin for a taste.
Have you been reluctant to use your chopsticks to seize the cube of shining, half-transparent, simmered red soy-sauced pork belly — at the center of almost every Chinese dining table — for fear that it's too greasy or fatty?
If so, the servings from Chef Michael Jakovljev's kitchen might be your last, or first, chance for a safe bite of this famous Chinese cuisine.
The French chef puts twice-cooked Iberian black pork belly at the top of his menu at the upscale restaurant Shook!, on the Bund. The pork has been slow-stewed for 30 hours in sweet soy sauce together with a mixture of papaya, mangoes, and peanuts.
As a result, the dish boasts a fruity fragrance that well dispels the greasiness of the meat and preserves the divine taste of the sticky, syrupy pork and its sauce that have propelled many foodies to a plate-licking conclusion.
"That's my international version of the local cuisine," says Jakovljev, the newly appointed executive chef of the restaurant in the Swatch Art Peace Hotel that is known for its fl irtatious combination of Chinese, Japanese, and Italian cuisines.
Related: Thumbs-up for local cuisine: QUAY