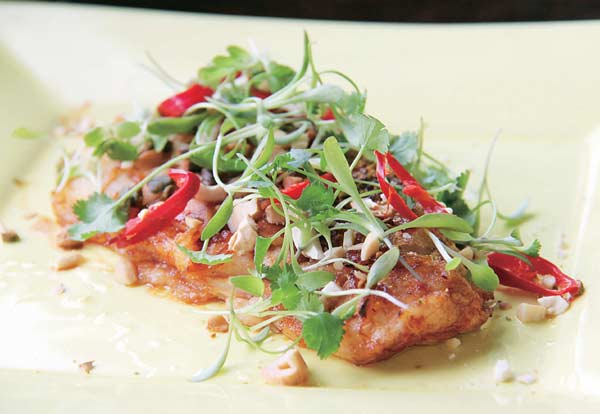 Hot smoked sole fish with sweet and spiced sauce, the restaurant's cafe setup. [Photo provided to Shanghai Star]
Hotel Indigo on the Bund has marketed its new set menu, "Your neighborhood fl avors", as a part of InterContinental's 30-year anniversary in China, hoping to bring back to life all your childhood memories of food in your neighborhood.
Well, my childhood neighborhood has long disappeared, and the apartment buildings I have lived in since hardly make up a neighborhood, as everyone acts so distant that I am not sure if I have a next-door neighbor.
But this new menu, created by chef Song Yu, better known as Vincent Song, creates a new culinary memory of the Bund neighborhood for me, thanks to Song's earlier experience "as an outcast in the Chinese traditional cooking school".
"During my time, good students went to state-owned restaurants and poor ones went to Western cafes and bu+ ets, and that's how I ended up cooking steak and frying cod," Song says.
Of course, the executive chef of the fi ve-star hotel was being modest. Yet, the "neighborhood fl avors" seasoned by Song taste refreshingly exotic and rich, just like the architectural styles of the Bund, varying from the Gothic to the Baroque, to the Classic.
For appetizers, two out of the traditional eight "Shanghai small cold dishes" are selected in accordance with the season, an idea that Song said originated from Chinese ancient culinary ideology but gained its popularity in recent years in the Western dining world.
Meat and fi sh sit centerstage and together on the menu as well as the dining table, as every hospitable Shanghai household would arrange when treating a guest.
The red braised smoked fi sh is a traditional appetizer in Shanghai cuisine, but is reinvented by chef Song with a rare modernism as an entree.
Imported cod from Iceland replaces the usual black carp, often caught from the lower reaches of the Yangtze River. While the texture is similar, the latter is much safer for a voracious bite with its few bones.
As a born and bred Shanghainese, I wished the fi sh could be coated with more of the shiny, sugary red soy sauce.
Related: Thumbs-up for local cuisine: SHOOK!