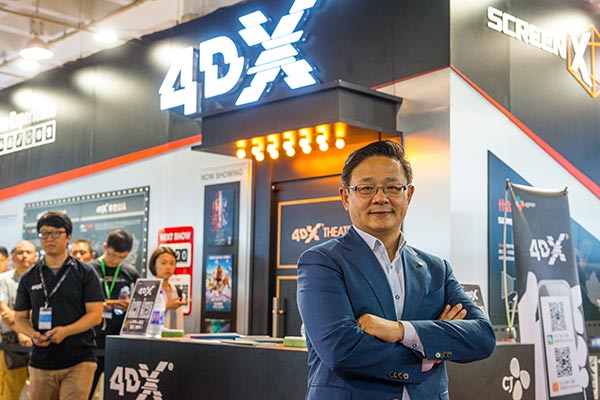 Choi Byung-hwan, CEO of CJ 4Dplex, at the recent Beijing International Radio TV & Film Exhibition. [Photo provided to China Daily]
4DX is available on 273 screens in 41 countries and regions.
On the Chinese mainland, it's in 61 auditoriums with 5,800 seats.
In a related development, CGV, a multiplex chain affiliated to CJ, recently reached a deal with China's Wanda Cinemas, the biggest cinema operator not only in China but in the world.
The deal will possibly allow some CGV cinemas in China to join Wanda's chain, and Choi believes that this is CGV's opportunity to forge closer bonds with the Chinese market.
In 2015, 45 films released on the Chinese Mainland used 4DX format, including 10 Chinese films, and 12 Chinese films have been released in the 4DX format this year, with more to come.
Speaking about the point at which the 4DX technology can be introduced into the filmmaking process, Choi says some filmmakers use it from the very beginning, rather than in the post-production process.
For example, in some cases, he says, the 4DX team contacts major Hollywood studios when their blockbusters are still under production, and he expects such contacts with Chinese filmmakers in the future.
"We talk to producers so they can plan for the 4DX format from the start," says Choi.
Speaking specifically about China, he says: "There are many titles (films) we can choose in China."
But he does see some difficulties affecting the spread of the 4DX technology. "In China, there are many local cinemas who compete on price, and not on the viewing experience," he says.
However, he adds, his company won't follow a low-price strategy. He believes that, as more viewers are drawn to cinemas by high-quality experiences, prices will naturally fall.
"When I first entered the industry, I saw IMAX as my teacher and competitor," says Choi.
"But IMAX is now thriving in China, and this gives me confidence.
"At the current pace, we expect to have 2,000 4DX theaters around the world by 2020. And, by then, one out of every 10 Hollywood-blockbuster viewers will choose to see the film in the 4DX format."
Related:
Liu Zhenyun's hit novel adapted for the big screen