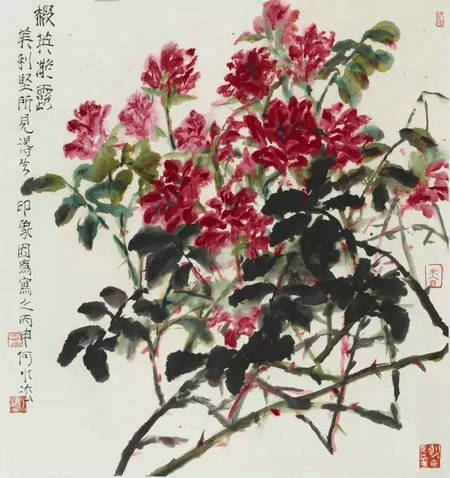 He Shuifa's painting. [Photo/Chinaculture.org]
The overseas promotion and art exhibition of Xiling Seal Engraver's Society will be held from September 10 to 20 at the International Art Center of San Francisco.
More than 100 masterpieces created by famous members of the society will be on display. It is set to be an eye feast for people from both countries.
As the opening show of the 2016 Across the Pacific-China Arts Festival, the promotion and art exhibition is bound to be a great international exchange for Chinese calligraphy and seal-cutting circle. At the show, works of Liu Jiang, Zhu Guantian, Han Tianheng, Li Gangtian and other deputy directors of the Xiling Seal Engraver's Society will be presented in various forms.
Besides, exhibits include Qian Dali's bird-and-flower painting, Lin Jiandan's Qin-Han Dynasty-inspired seal-cutting works as well as calligraphy of all types, Wang Dongling's modern wild cursive, He Shuifa's ink painting featuring birds and flowers, Wu Jingchu's works and Tong Yahui's diverse handwriting.
These great works embody the most authentic and classic Chinese culture and Chinese artists' spirit. The show will guide Americans into the daily life of Chinese people.
Xiling Seal Engraver's Society was founded in 1904. It boasts more than a century of cultural tradition. Since its establishment, the society has been under the leadership of Wu Changshuo, Ma Heng, Zhang Zongxiang, Sha Menghai, Zhao Puchu, Qi Gong and Rao Zongyi successively. It has also been joined by maestros including Hong Yi, Huang Binhong and Pan Tianshou. Its international clout and good name is beyond doubt.
At the turn of the new century, Xiling Seal Engraver's Society actively responded to the nation's call of reforming cultural system.
The International Art Center of San Francisco has always been dedicated to holding artworks exhibitions and exchanges. It engages in art-related show, collection, investment and trade. It has strong financial backing and deeply rooted culture.