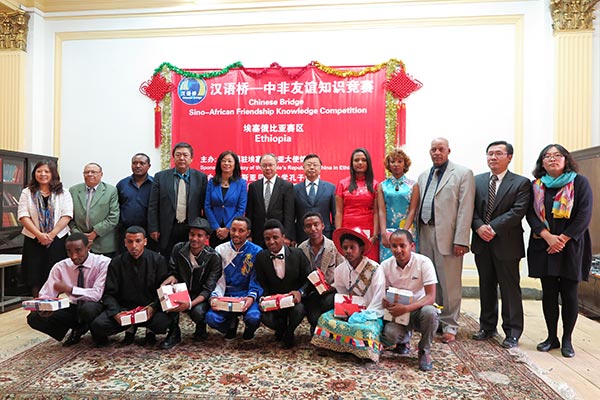 Participants pose for a group photo after the China-African friendship knowledge competition. [Photo/fmprc.gov.cn]
A China-African friendship knowledge competition was held on Wednesday in Ethiopia's capital Addis Ababa, demonstrating the ever strengthening cooperation in education and cultural exchanges between the two countries.
Sponsored by the Chinese Embassy in Ethiopia the Competition was organized by Confucius Institute at the Addis Ababa University (A.A.U.) and Confucius at Technical and Vocational Education and Training (TVET) Institute on the premises of A.A.U.
With three rounds of different levels, the competition has involved 10 contestants from the A.A.U. Chinese Language Department.
The competition involves presenting speeches in Chinese language; question and answer session on the Sino-Africa relations; and also talent shows on Chinese cultures including chanting verses, singing, dancing and Kung fu (Chinese martial arts).
Mebrhatu Solomon, who scored the highest to win the competition in first rank, told Xinhua that the Competition, "Chinese Bridge" creates opportunity to learn more about China while showing one's competence.
Mebrhatu was once in China to learn more Chinese language and he also participated in such competition with contestants from different countries including 26 African countries.
He said such event creates opportunity to know more about China and other countries while promoting one's own culture.