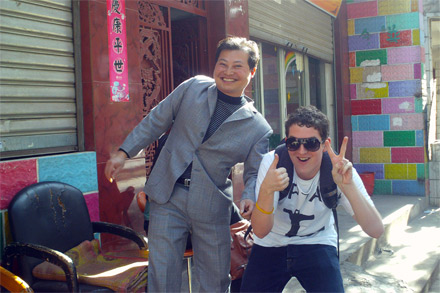 McFetridge (R) said this man (L) yelled "Hello" as he bicycled down the street and asked if the two could snap a quick photo together. Often, the Chinese will be eager to speak with Westerners, McFetridge said..[Photo/keuka.edu]
In Matt McFetridge's words, his two-and-half year stint in China was the "time of his life".
The American student, a native of the Finger Lakes region, New York, became fascinated by the ancient country after meeting his first Chinese friend Andi, a classmate in his undergraduate class.
In the fall of 2010, McFetridge arrived in China to study abroad for the first time. In the picturesque southwestern city of Kunming, his Chinese friend's hometown, he had an "amazing and warm experience," and he realized the six-month program "was simply not enough".
When he returned to the United States, he began applying for graduate programs and in 2012 began a two-year master's course in international relations at Tsinghua, one of China's most prestigious universities.
"Coming to China was the best decision I have made," he said.
McFetridge is one of American students who have studied in China since the two countries began an educational exchange program 36 years ago.
China has since seen a steady flow of American students, increasing from 8,480 in 2004 to 24,203 in 2014, according to China's Ministry of Education. They became the second biggest group of international students in 2008, with South Korea the largest.
As McFetridge was enjoying the sunshine of Kunming, his fellow countryman Eric Schafer moved to Beijing from California two years after getting a bachelor's degree in political science from Berkeley.
Unlike McFetridge, whose connection with China began with a friendship, the Berkeley graduate chose Beijing because he saw "the substantial influence China had on the world", even though he could barely speak Chinese back then.
"I couldn't shop at the store, I couldn't go to the bank, I couldn't order food, I couldn't do anything!" Schafer said, recalling the beginning of his journey in China.
The frustration brought by the language barrier did not last long as he began a three-year intensive Chinese-language program at the Beijing Language and Culture University.
Looking back, Schafer, who just recently completed his master's degree in international relations and is now a faculty member at the Peking University, said, "I have no regrets at all. My life in China has been fulfilling, and I'm very happy to be here."
"At times, living in China can be challenging, but living here has been very beneficial and the challenges have made me a better and stronger person."