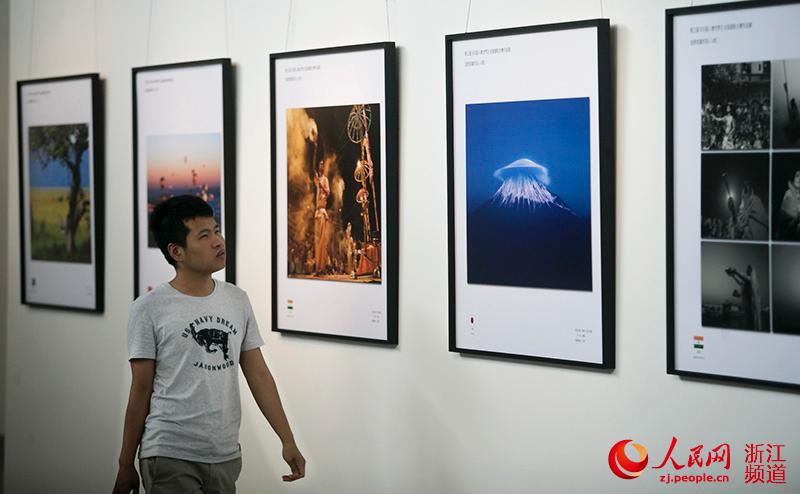 A visitor looks at the photo exhibition. [Photo/People.com.cn]
World in the Eyes of Chinese People, a photo exhibition, kicked off in Ningbo, Zhejiang province, on Tuesday. It is a part of the first China-CEEC (Central and Eastern European countries) Investment and Trade Expo, which will be held from June 8 to June 12.
The exhibition is a collection of prize-winning photos from the homonymic photography competition for Chinese people around the world. According to Chinese Photography, one of the sponsors of the competition, 12,000 photos from 30 provinces in China and more than 90 countries around the world were received in three months.
The photos display in all aspects the world as seen in the eyes of Chinese people. They, cover themes that include natural scenery, culture, religion, historic sites and common people's customs and practices. Finally, 100 photos were chosen as the winning works after serious consideration by a panel of judges in May.
For China-CEEC Expo, the panel carefully chose 60 photos from the winning works ,which mainly concern Central and Eastern European countries.
Shen Yiming, a member of Chinese Photographers Society as well as a judge on the panel, said that the photos on display show the open visual field and confident culture of the modern Chinese people.
"You can see the centuries-old culture and art, Chinese people's special feeling on those Central and Eastern European countries, and longing for cooperation in The Belt and Road Initiative through these photos. I do wish people between China and those European countries can learn more about each other's culture, and develop more cooperation through this exhibition," Shen said.