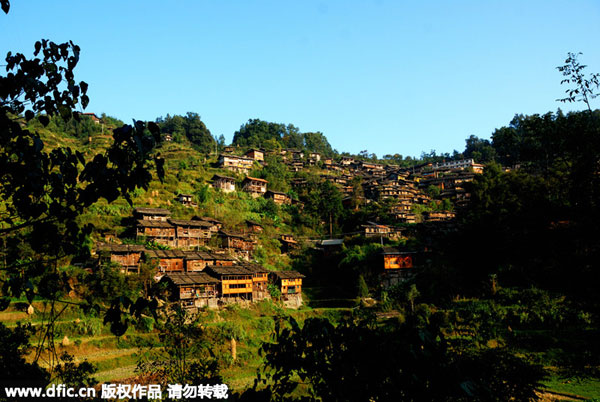 A photo taken on Oct 6, 2009 shows peaceful Jiuji village under the sunshine, in Southwest China's Guizhou province, before a big fire in 2014 burned down a quarter of the village's houses. [Photo/IC]
How and why we should protect China's traditional villages and rural culture is a discussion that can go on and on. Thanks to the insiders, experts and entrepreneurs who talked to us in this special coverage, our insight into Chinese traditional villages has gone one step further.
Traditional Chinese villages, the carriers of China's agricultural history and culture, are vanishing at an alarming rate. The protection work allows no time to delay: Rapid urbanization demolishes old villages to make way for modern construction; young people are eager to discard their rural legacy to embrace city life; abandoned houses crumble into dust without protection; irrational commercial development makes traditional villages "traditional" no more; fire hazards widely exist in rural areas and we hear of villages burning down all the time.
Statistic show that China had 3.7 million villages in 2000, and that figure had dropped to 2.6 million in 2010. About 900,000 villages have vanished over the past 10 years, a loss of about 300 a day. "I am not shocked by this number, and the reality could be worse," said Li Huadong, secretary general of the Conservation and Development Center of Chinese Traditional Village.