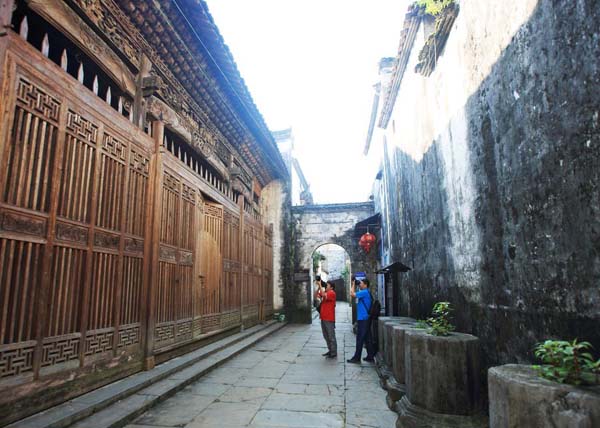 Staff study ancient architecture at Hong village, Qinghua town, Wuyuan county, Jiangxi province, July 30, 2014. [Photo/Xinhua]
About 900,000 natural villages have disappeared over the past 10 years and the situation is becoming more serious than anticipated, Feng Jicai, a famed writer and CPPCC member, said on Wednesday.
As a campaigner for the protection of villages, Feng is concerned by their rapid decline having been the birthplace of Chinese culture and the origin of agricultural civilization.
No other country in the world sees its villages disappearing at such a rate, claimed Feng who made his point by saying: "100 villages have vanished in a day, as we are having this session."
Chinese director Feng Xiaogang, a CPPCC member, agreed with the writer's view, saying that when producing the film 1942, his team was forced to shoot in a village in Shanxi, having failed to find a suitable one in Henan province where the story actually happened.
Feng believes a major problem is that villagers have no say in the matter, with power only in the hands of political officials, scholars and developers.
Natives are moved from their homes, folk ways vanish and the village becomes an empty shell with no cultural value.
Feng added that having no historical record is another major obstacle for the preservation of traditional villages.
Since the launch of "Chinese Traditional Villages Archive-Building and Surveys" in June last year, Feng and his team have catalogued 100 villages for preservation so far.
Their efforts only mark the first step of a long march, because many experts think that more than 5,000 traditional villages should be investigated and archived, Feng said when discussing progress of the project.