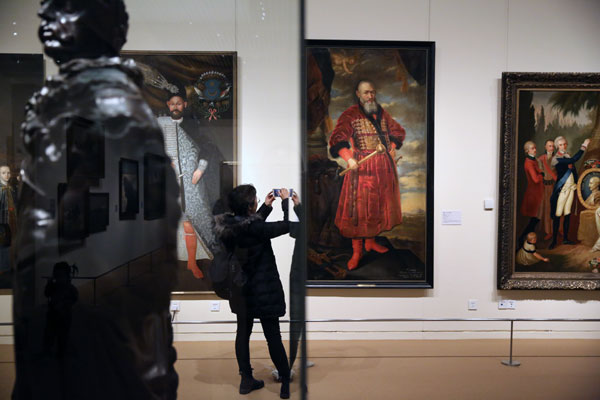 Treasures from Chopin's Country, at the National Museum of China, fills in the blanks of people's knowledge of the composer's homeland. [Photo by Jiang Dong/China Daily]
A show of Polish masterpieces gives an overview of the political and cultural history of a country that sits between East and West. Lin Qi reports.
For many Chinese people, Frederic Chopin (1810-1849) and his music have been a gateway to Polish art. But the country and its cultural traditions that made Chopin a leading musician of his era remain remote and mysterious to his fans in China.
Treasures from Chopin's Country, an ongoing exhibition at the National Museum of China, is filling in the blanks of people's knowledge of the composer's homeland, from the perspective of fine arts and handicraft.
The first-ever large-scale Polish art show in China is exhibiting 350 paintings, sculptures, textiles and silver and bronze wares from 20 of Poland's museums and institutions.
Curator Maria Poprzcka, a professor with the University of Warsaw, says the exhibition will tell "a second story" about Poland with the language of art, different from what one reads in political or history textbooks.
"Poland sits in between the East and the West. Because of the unique geographic position, Poland is open to absorbing different cultures while maintaining its own artistic characteristics," Poprzcka says. "The exhibits demonstrate the influence of Western art, especially that of Germany, Italy and France. The costumes, weapons and artifacts on show present the Oriental impact of when the country's territory expanded eastward in the 17th century."
Together, the exhibited works tell a story of a nation's artistic greatness spanning from the 15th to the 20th centuries. To arouse the interest of local audiences in the story, Chen Chengjun, deputy-director of the National Museum of China, says the challenge was for the Chinese museum staff and their Polish counterparts to find a hook to draw people in. They couldn't find a better choice than Chopin, an expatriate in France who never forgot that he was Polish at heart.