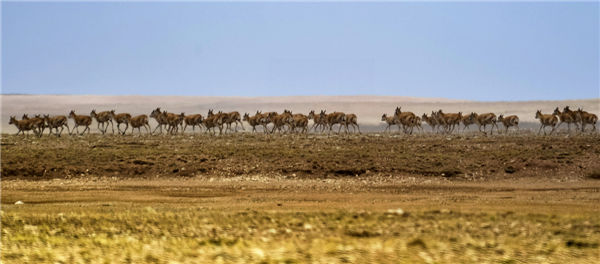 Tibetan antelopes migrate in June in Hoh Xil, one of the largest remaining natural habitats for wild animals in the world. [Photo/Xinhua]
The habitat of the Tibetan antelope in the Hoh Xil area of China's Qinghai province will be nominated as a UNESCO World Natural Heritage site in 2017.
Xinhua News Agency quoted Jia Yingzhong, director of Qinghai's Department of Housing and Urban-Rural Development, as saying preparation work on the application started at the end of 2014.
"In 2015, we will try to put Hoh Xil on China's tentative list of world heritage sites, evaluate its natural resources and compile documents for the requisite reports," Jia said.
Jia estimated that preparations would be completed in 2017 in time for a vote at the annual meeting of the World Heritage Committee.
China currently has 47 places on the World Hertiage list. If Hoh Xil is added, it would be a first for Qinghai province.
Hoh Xil, or Kekexili, lies in the border area of the Tibet autonomous region. It was designated in 1995 as a national nature preserve, covering 45,000 square kilometers and having an average elevation of 4,600 meters.
Hoh Xil means "beautiful girl" in the Mongolian language. It is China's largest area of uninhabited land and has long been a paradise for wildlife. It's home to more than 230 species of animals, 20 of which are under State protection, including the wild yak, Tibetan antelope, wild donkey, white-lip deer and brown bear.