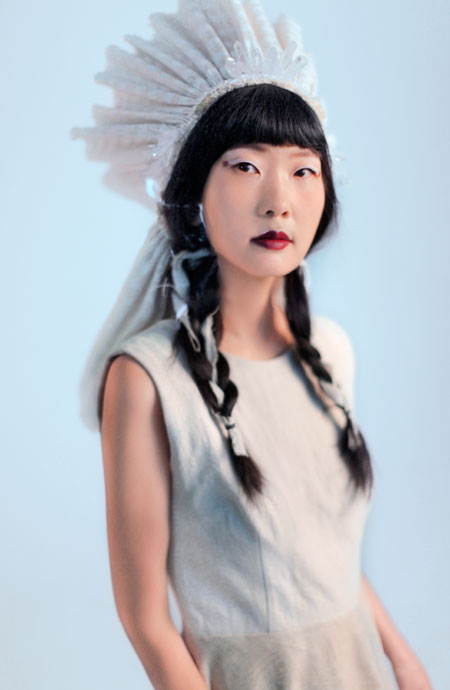 Singer-songwriter Long Kuan has given herself a new identity: a designer of eco-friendly products, including the wooden necklaces, which she makes out of recycled materials. [Photo/China Daily]
Singer-songwriter Long Kuan is making music again after a long hiatus. But she's finding methods to express herself in many other ways, she tells Chen Nan.
Not many female Chinese singer-songwriters have made a career abroad before making their mark in the domestic market. Few have been able to break into the scene overnight with an eccentric music style. And few have had the audacity to withdraw from the limelight at the peak of her career. Long Kuan has done all of the above and more.
Rarely having been seen in public for years, Long showed up at a flea market at Treescape Gallery in Qianliang Hutong in downtown Beijing and introduced herself with a new identity: a designer of eco-friendly products.
"I am having so much fun with designing and making handicrafts," says the 35-year-old, pointing to wooden necklaces and brooches, which she made out of recycled materials.
She calls her studio in a three-story house at the eastern outskirts of Beijing her "wonderland". She spends most of her time there, decorating the house with her imagination, in such ways as hand-painting illustrations on the walls and planting vegetables and sunflowers in the backyard.
Since the 2005 disbanding of the pop duo Longkuan Jiuduan, which was composed of Long and composer-producer Jiu Duan (whose real name is Tian Peng), Long has been traveling around the world.
In January 2013, along with two friends, Long founded her studio and named it Hakuna Matata, which is a Swahili phrase meaning "there isn't a problem".