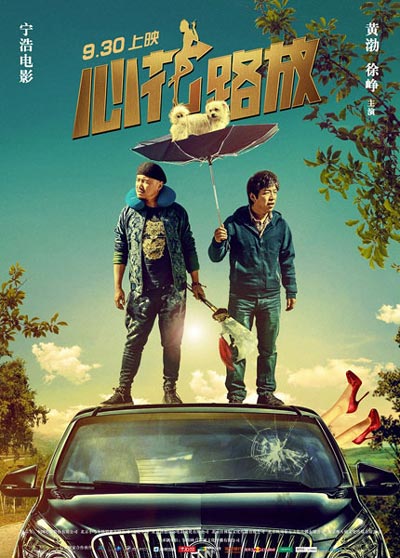 A poster of director Ning Hao's new film "Xin Hua Lu Fang" [Photo/Mtime.com]
Huang, who became a star after appearing in Ning's 2006 low-budget comedy Crazy Stone, points out: "Ning's films show various tastes."
China's film market has been shaken up by the emergence of unexpected comedies and comedic stars.
The industry was stunned when Xu's directoral debut Lost in Thailand, which also featured Huang, became 2012's highest-grossing domestic film at the Chinese box office, raking in 1.3 billion yuan ($210 million).
And The Breakup Guru, which was screened in June, took in nearly 700 million yuan, despite boos from many critics.
"It's too early to say Chinese audiences are over special effects blockbusters," Tsinghua University associate professor of communications Zhao Shuguang says.
"But low-budget comedies' box office wins show people have in the past year or two come to prefer stories closer to daily life. In the end, movies remain entertainment for the general public."
Such successes have perhaps given producers higher expectations for Breakup Buddies. More than 1 million presale tickets had been sold by Monday. The online sales site Meituan.com predicts presale earnings will grow up to 100 million yuan before the official release.
Imax, which usually focuses on special-effects flicks, broke stride by cooperating on the film.
"Imax belongs to a wider range outside the Hollywood blockbusters of fine visual effects," Imax China CEO Chen Jiande explains.
"We also serve those young moviemakers who have passion for creativity. This movie is one of our first trials in Chinese film and is only a start."