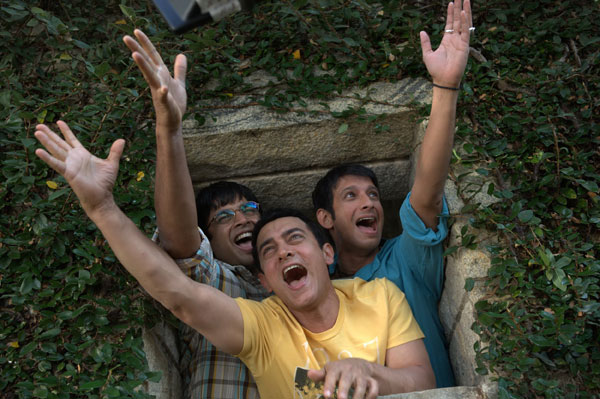 A scene from the popular 2011 Bollywood comedy 3 Idiots.[Photo provided to China Daily]
With a joint agreement on cinematic cooperation already signed, China and India now have the opportunity to build on cultural ties. Wang Kaihao reports.
Of late, China's diplomacy has witnessed the promotion of popular culture through the country's cinema.
When President Xi Jinping met with members of the Chinese community in India, during his recent visit to the neighboring country, he revealed his wish to enhance bilateral cinematic cooperation and said that India could be used as a location to shoot Chinese movies.
The move would also boost tourism in India as it had done in Thailand after the high-grossing Chinese movie Lost in Thailand (2012) was shot there.
Xi and Indian Prime Minister Narendra Modi signed a number of agreements in the cultural field. As part of the leaders' initiatives, a movie cooperation agreement was signed by Cai Fuchao, head of State Administration of Press, Publication, Radio, Film, and Television and India's Information and Broadcasting Minister Prakash Javadekar on Sept 18.
Athough specifics of the film agreement had yet to be revealed to the public, Indian media said that a big picture was in store.
The agreement will allow Chinese producers to outsource post-production works to Indian studios, says the widely circulated English-language newspaper Hindustan Times. "Indian producers will be able to shoot in places like Shanghai, which have long been on their wish list."
With more than 1,000 movies produced each year in about 20 languages, India is the world's largest moviemaker, and China's 21.7 billion yuan ($3.53 billion) box-office income has turned the country into the world's second-largest movie market after the United States, overtaking Japan in 2013.