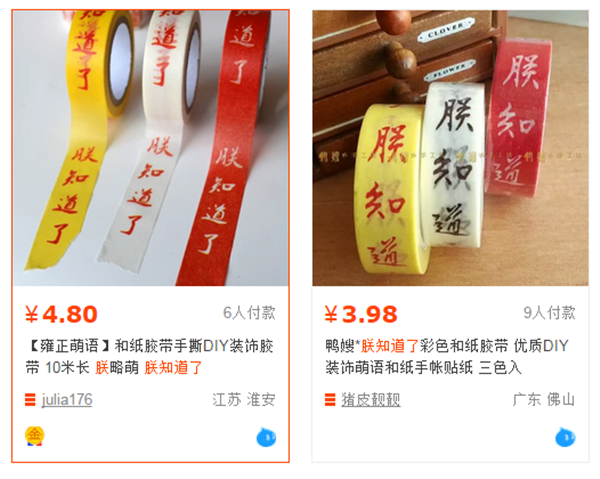 Tape printed with the royal script of Emperor Kangxi is one of the best sellers at Taipei Palace Museum in Taiwan. [A screen shot of Taobao]
Emperor Kangxi of the Qing Dynasty (1644-1911) would never have imagined that more than 100 years later, his red ink royal script would have been so popular among the masses, neither does Taipei's Palace Museum, which made it all possible.
What the museum had also not anticipated was that one year after it introduced the "emperor gadget", it has to go out of its way to guard copyright of the gadget against widely available copycats being sold online.
The gadget the museum is guarding - a type of adhesive tape with Emperor Kangxi's red ink 朕知道了(Zhenzhidaole, meaning the emperor has got the knowledge of an incident or a fact without approval or objection) on it - sold 500 copies a day after it came out.
The tapes then came up against rival e-business dealers flooding the online Taobao shopping mall and selling copies. Prices offered ranged from less than 4 yuan (about $0.6) to 40 yuan (about $6), competitive compared with the original 60 yuan (about $9.4).
The tape is not the only creative souvenir item to have been copied. According to Jiang Naixin, member of the Taiwan Legislative Council, other popular items such as the green and white jade cabbage and the jade Tung-Po meat were also found to have forged counterparts at a bargain price on Taobao.
To combat the possible cash drain from annual sales, which reached 160 million yuan (about $25 million) last year, Taipei's Palace Museum appealed to lawyers to deal with copyright infringements.
"We have set up an intellectual property rights protection group, and we have entrusted a lawyer to look at infringement cases since last year," said Feng Mingzhu, director of Taipei's Palace Museum. Feng said that so far there have 250,000 suspect infringed items, with 32 confirmed.