Obama honors Streisand, Spielberg in Washington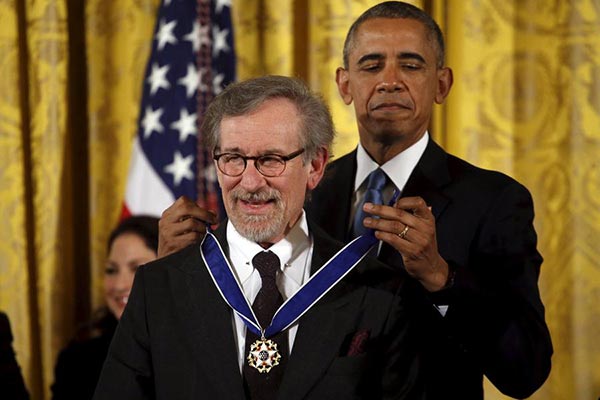 US President Barack Obama presents the Presidential Medal of Freedom to film director Steven Spielberg during an event in the East Room of the White House in Washington Nov 24, 2015. [Photo/Agencies]
US President Barack Obama recognised 17 Americans with the highest US civilian award on Tuesday.
Among the recipients were giants of the entertainment industry including Barbara Streisand and Steven Spielberg, baseball legends Willie Mays and Yogi Berra, and politicians, activists and government innovators.
President Obama paid tribute to Steven Spielberg, praising his amazing creativity.
"In his career, Steven has introduced us to extraterrestrials, rogue archaeologists, killer sharks, he's taken us to Neverland, Jurassic Park, but also the beaches of Normandy and Nazi concentration camps. Steven's films are marked most important by a faith in our common humanity. The same faith that led him to create the Shoah Foundation and lend a voice to survivors of genocide around the world."
Obama also awarded the Presidential Medal of Freedom to musicians Gloria and Emilio Estefan, singer James Taylor, composer Stephen Sondheim and violinist Itzhak Perlman.
Among the posthumous recipients was and Japanese-American civil rights leader Minoru Yasui, who challenged the constitutionality of a military curfew order during World War II on the grounds of racial discrimination and spent months in solitary confinement during the legal battle.