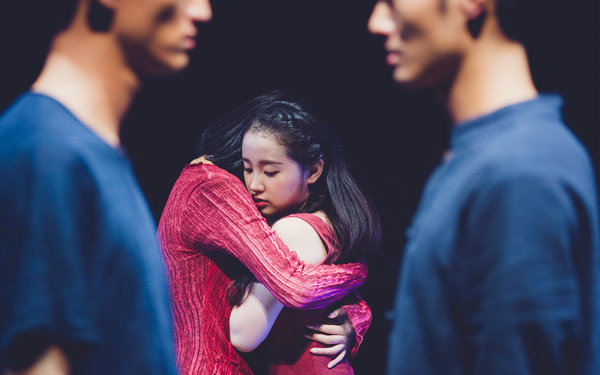 The modern dance performance The Man Who Is Chasing the Stars will be staged in Tianjin this weekend.[Photo provided to China Daily]
Xia Ming likes reading. For the director and choreographer, who is teaching at the Tianjin Conservatory of Music, it's a way to be alone, to think and to imagine.
In early 2015, she read an article about professor Wu Xuebing of the School of Physics at Peking University.
Wu and his team discovered "the most luminous supermassive quasar, a shining object produced by a black hole, ever found in the distant universe".
The discovery was published by the British journal Nature and was later reported by media all over the world.
What impressed Xia was the professor's persistence despite of facing challenges and anxiety. For Xia, who was seeking a theme for her new choreographic work, the article offered many dimensions for consideration, which has evolved into the contemporary dance work, The Man Who Is Chasing the Stars.
One of the 2015 projects of the China National Arts Fund, the dance work will be staged from Friday to Sunday at Tianjin Grand Theater.
"Professor Wu's story is very inspiring to me. I didn't tell his story with my choreography, though. I use his story as a background while exploring the relationship between mankind and nature, the relationship between people of two generations and people's beliefs in the contemporary scene," the 33-year-old says.
She also works with scriptwriter and director Sun Xiaoxing as well as her students in Tianjin to create this work.
"At the beginning, the work, like my previous works, tells a concrete story. But with Sun, I make it more abstract," says Xia.
Xia was born in Changchun city in Jilin province. Her parents were engineers, but Xia learned a variety of arts, such as dancing, painting and playing the piano, as a child.
She was shy and stuck to her own ideas even then, she recalls.
She gave up the idea of being a dancer and focused on being a choreographer because the latter means much more space to create onstage.
Xia earned her master's degree from Beijing Academy of Dance and has been working at Tianjin Conservatory of Music since 2008.
The Man Who Is Chasing the Stars is her first independent choreographic work. Earlier, she won national awards for commissioned performing-arts works, including the Peking Opera-themed dance drama Hui Ban in 2011 and her dance work Softie's Volcano in 2012.
From 2012 to 2013, Xia studied in the United States as a visiting scholar. She had lots of free time to ponder her artistic direction.
"Contemporary dance is still a struggling young art form in China," says Xia. "I have experienced some sad days when my ideas were turned down or I had to compromise for some reason. That's why The Man Who Is Chasing the Stars is very special to me."
The work is even more remarkable to Xia because she discovered she's pregnant when she started making it this August.
"It feels like waiting for two newborn babies to come at the same time," she says.
If you go
7:30 pm, Friday-Sunday. Tianjin Grand Theater, 24 Youyi Road, Hexi district, Tianjin. 022-8388-2000.