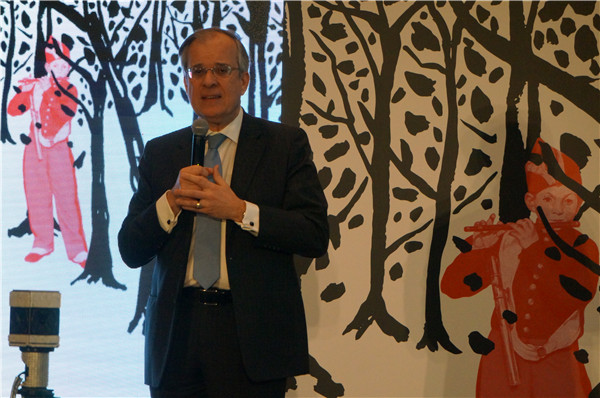 Maurice Gourdault-Montagne, French Ambassador to China, speaks at the press conference held at the French Embassy this Wednesday. [Photo by Ruan Fan/chinadaily.com.cn] 
Croisements is moving forward to maintain its status as one of the most important foreign festivals in China. Since its inception, the festival has been the beating heart of France in China with over 10 million spectators.
Beginning April 29, the annual Festival Croisement will spread across China presenting over 150 performances, exhibitions, lectures, and activities from 45 programs in over 30 cities.
Maurice Gourdault-Montagne, ambassador of France in China, says this year's festival will have more attention to detail with its shorter time period.
"The aim is to give greater impact to new and explosive programs that live up to the festival's reputation and, above all, meet the expectations of a demanding and refined audience – all while remaining popular and accessible to all," Gourdault- Montagne said.
The Croisement, full of creativity, enjoyment, and sparks of freedom, provides the Chinese audience a channel to understand French culture.
"It might as well help audience get a step closer to the essence of life," said Gourdault- Montagne.
"The world is both rosy and cruel, it is complicated. The artists, both from France and China, are trying to see the world in their own ways. They are providing us unconventional perspectives to view the world, through which we might better understand the complexity of life."