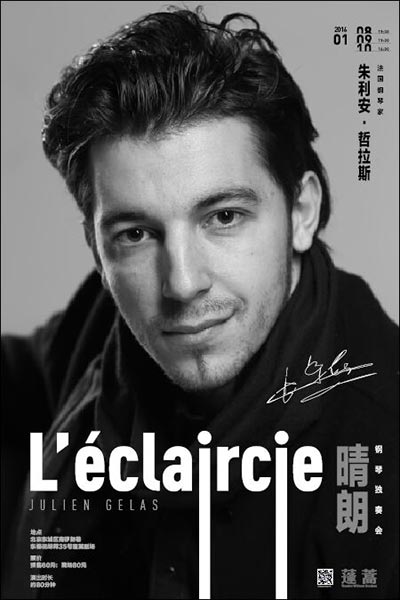 Julien Gelas is ready to charm the Beijing audiences with his piano recital entitled L'éclaircie in January. [Photo provided to chinadaily.com.cn]
Julien Gelas, French composer and pianist who graduated from the University of Provence Aix-Marseille in France, is bringing his very own genre of music to Beijing audiences next month at his piano recital entitled L'éclaircie.
Merging classical, blues, rock and pop music in his free style composing, Gelas will be playing 17 pieces of music from his self-titled album Julien Gelas.
Watching his live performances is sometimes compared to reading Le Rouge et le Noir (or The Red and the Black), as his music is sort of complicated and paradoxical, a melody that resonates in your happiness and sadness, power and powerlessness in life.
Also known as a drama director, Gelas has been cooperating on some plays, films and television shows. He once wrote music for singers in La voix de la France (French version of The Voice).
So far, Gelas has given recitals in France, Italy, Belgium and Germany. He has two original plays: La Fuite and Station Liberty.