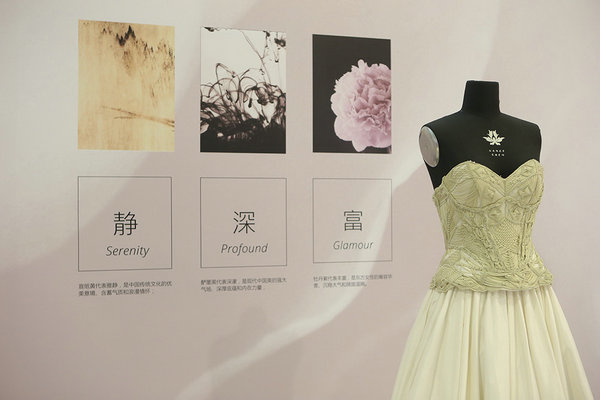 Shanghai-based Chinese-American designer Grace Chen reveals her vision of the modern Chinese woman through an understated chicness that can stand the test of time.[Photo provided to China Daily]
The Shanghai-based Chinese-American designer who recently showed her 2016 spring/summer collection in Beijing wants her clothes to look good on real people.
What do China's elite women want to wear? Few know more about this than Grace Chen, the couturier who has gathered a faithful following from among the most powerful and well-connected.
The Shanghai-based Chinese-American designer recently showed her 2016 spring/summer collection in Beijing, revealing her vision of a modern Chinese woman, who exudes "composure, depth and richness".
The show presented more than 40 looks, including day wear, cocktail dresses and evening wear, all tailored for a modern woman.
The collection used yellow, black and purple as the main tones. Western tailoring was complemented with Chinese craftsmanship like embroidery and knitting.
The show featured both models and Chen's clients, which has been a tradition for the brand.
"Real people are better at conveying the spirit of the clothes. I always make sure that my clothes look good on real people." she says.
"When I finish making a dress, it's only half done. The other half depends on the wearer. It's a collaboration between me and the client."
Chen has some 300 clients, including business tycoons, celebrities, politicians and their spouses. Many of them are also friends. It is said that Chinese first lady Peng Liyuan is among them, although Chen is cautious about dropping names.
Chen says we are now in what she calls the "post-big logos" era, as "the international big logos have educated Chinese customers about good design and craftsmanship, but they have lost their magic due to lack of a cultural touch and product diversity".
"Clients want clothes that speak to their own spirit. They don't want clothes that were shown six months earlier and are already all over the Internet," she says.
While she uses global trends and clients' needs as the background for her designs, Chen always makes sure that she is ahead of the curve.
"To do that, I have to have her (the client) in my heart and understand her lifestyle. I don't wait for her to tell me what she wants," she says.
Having practiced Chinese calligraphy since she was 4, Chen is deeply influenced by the aesthetics of Chinese traditional art, which is translated into smooth lines and graceful colors in her designs.
She acquired a degree in fashion design from the Beijing Institute of Fashion Technology before continuing her studies at The Fashion Institute of Technology in New York. For more than a decade, Chen worked as head designer for brands like Zumzum, Halston and Tadashi in the United States, dressing the likes of Sharon Stone, Karen Miller and Oprah Winfrey.