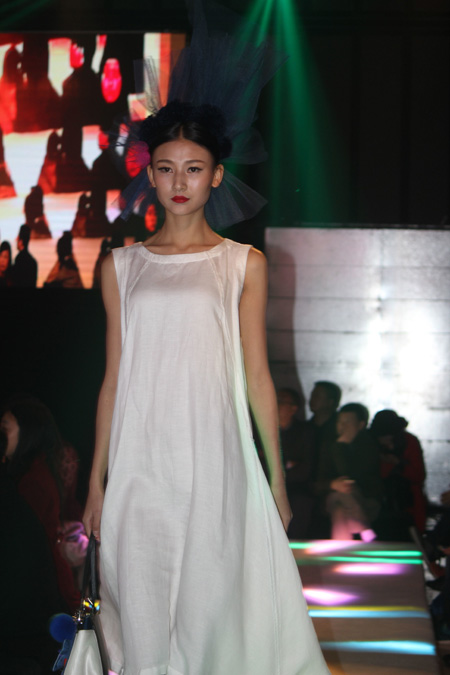 A model showcases the silk dress and bag in the fashion show. [Photo by Huang Leran/chinadaily.com.cn]
Despite drizzle rain and the cold weather in the western suburbs of Chengdu, representatives from the fashion world gathered in the Lifestyle Center on Friday where a fashion show was in full effect.
Models showcased exquisite silk products -- silk dresses, bags, and ornaments from some of China's top designers.
"I have seen fashion shows before. But the chic silk ware on display in this show amazes me. All the designs are from a producer of the ancient brocade in Sichuan," said Fang Wang, a researcher from the Jinsha Site Museum in Chengdu.
All the new silk products were designed over the past three years by the Shujiang Brocade Institute. The institution is China's most famous producer of Shu Brocade, it (Shujiang Brocade Institute) was established from the half-century-old Chengdu Shu Brocade Factory.
With the Song and Yun brocades of Jiangsu province and Zhuang Brocade in Guangxi, Shu-style is one of China's four most famous schools of brocade.
The Chengdu Shu Brocade and Embroidery Museum which has joins the institute in must-see sights in Chengdu due to its important symbol of the 3,000-year-old city.
Items from the museum tell long story such as the tales of the South Silk Road that began more than 2,000 years ago.
The ancient trade route started in Chengdu, passed through Yunnan province and then on to Myanmar, India, Central Asia before finally ending in Europe.