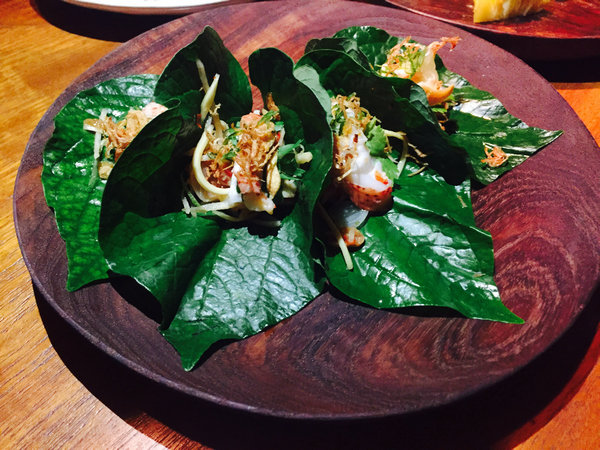 Pork and lobster with shredded ginger canape.[Photo by Liu Zhihua/ China Daily]
A bite of Chiang Mai larp canape - minced guinea fowl amped up with mint, lemongrass, cumin and other spices - is just an example of the culinary journey of discovery one can expect at Nahm, one of the world's top-rated restaurants.
Chef David Thompson's version of chicken larp, a traditional Thai appetizer, did not taste spicy in the beginning, but as I chewed and swallowed it, the heat spread and intensified on my tongue. Then I could feel the comfortable sting on my toes and fingertips. Somehow, the burning feeling just disappeared, suddenly and completely, a few minutes later.
The restaurant, co-founded by celebrity chef and author Thompson, an Australian, is an eatery one simply cannot miss on a visit to Bangkok. The namesake restaurant in London founded in 2001 was the first Thai eatery to be awarded a Michelin star, although it closed in 2012. Thompson learned Thai cooking from an old woman whose family has been living in Bangkok for centuries, and got from her recipes from the Thai royal kitchens, I was told.
Opened in the hotel Metropolitan By COMO in September 2010, in the center of the Thai capital, the restaurant was voted in 2014 as No 1 on Asia's 50 Best Restaurants list, and No 13 on the same year's list for the World's 50 Best Restaurants, both sponsored by S. Pellegrino, Acqua Panna and Diners Club.
Its ranks on the two lists declined, respectively, to No 7 and No 22 in 2015, but the restaurant remains so popular among locals and visitors that diners usually need to book a month in advance to secure a table for dinner.
I knew from the menu what the main ingredients were for a dish. I had read on the restaurant's website that Thai cooking techniques include slow smoking, pounding, chopping, charcoal grilling, and the use of wok, steamers and grills. Nahm also employs older techniques such as hand making noodles, fermenting, pickling and sun drying. But I still didn't know how chefs could transform the ingredients into dishes that have such a varied, ornate appearance and delicious taste.
My group gorged ourselves on a dozen of the restaurant's signature dishes and desserts during a specially arranged late dinner. The restaurant, with its simple and beautiful interiors, had a relaxing but elegant atmosphere.