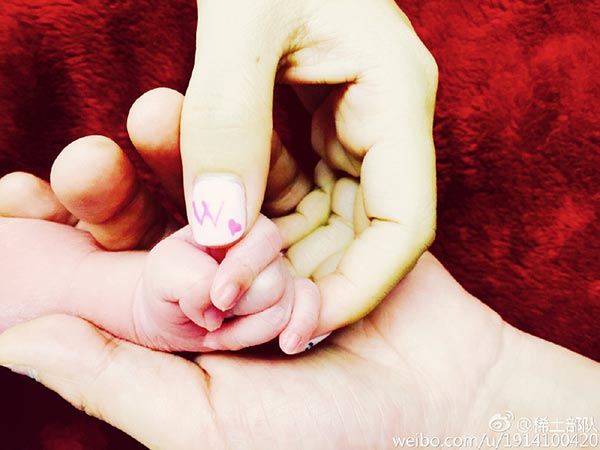 Hands of actress Zhang Ziyi, musician Wang Feng and their newborn daughter. [Photo/Sina Weibo of Zhang Ziyi]
Chinese actress Zhang Ziyi is officially a mother.
The Crouching Tiger, Hidden Dragon actress posted a photo of three hands, one hers, another of her musician husband, Wang Feng, and the small hand of a baby on her Sina Weibo account at 9:43 am on Monday.
"On Dec 27, 2015, you, me and her... the birth of the little one allowed us to have a family of our own! Everything goes well, I am indefinitely grateful!" Zhang captioned the photo.
Her rock star husband re-posted the photo soon afterwards. "She is here, the adorable little one," wrote Wang.
This is the first child for Zhang and the third for Wang, who announced his divorce with his second wife in 2013.
The expectant mother had been preparing for delivery in the US. Her husband flew to the US to be with her for Christmas, and Zhang posted photos on her Weibo of them spending time together on Christmas Eve.
The heavily-pregnant Zhang, along with her mother and Wang, were also spotted at the entrance gate to the San Diego Zoo in California.
Zhang accepted a marriage proposal from Wang at her birthday party on Feb 7, when the suitor had a flying white drone, a product of Shenzhen-based DJI, carry the ring to Zhang.
After the successful proposal, the star couple have given Hong Kong's Registrar of Marriage their notice to solemnize their marriage and made it official on March 29.